Halloween Recipe: Meringue Ghosts - A Frightfully Cute Halloween Treat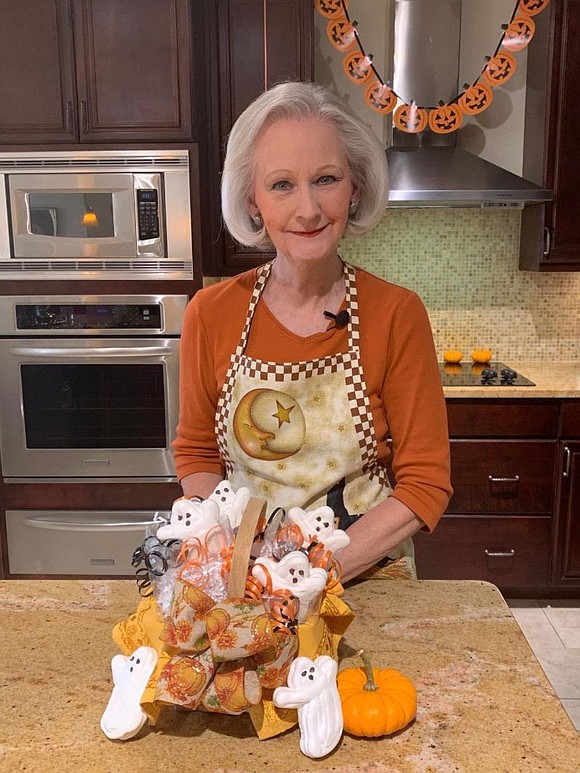 When you want to scare up a clever treat for Halloween, my Meringue Ghosts are just the trick! These little guys were a recipe in my first cookbook The Family Table, and they've been making an appearance almost every Halloween since. Few can resist their cute faces and sweet flavor, especially when they're peeking from the top of individual treat bags.
You probably have the ingredients already in your pantry and fridge – eggs, sugar, cream of tartar, vanilla, and mini chocolate chips. This is an easy recipe, but it's helpful to have a few tricks up your sleeve when making meringue. First, make certain the mixing bowl and beaters (or whisk) are clean and free of all oils or grease. Egg white won't thicken when beaten in the presence of oils. Second, you'll get more volume when beating egg whites if they're at room temperature. And lastly, adding a smidge of acid like cream of tartar will help to stabilize the meringue and ensure maximum volume as the egg whites are beaten.
Meringue should be baked slowly at a low temperature – in this case, 225 degrees. If the heat is too high, the meringue will brown. Once the meringue ghosts are baked, turn off the heat and leave them in the oven for 2 to 3 hours to allow the ghosts to dry. Removing them too soon will cause them to lose their crisp texture and become tacky. Likewise, making meringue on a humid day is asking for a frightful disaster. The meringue will never dry and you'll end up with a platter full of sticky ghosts.
Each year, I've handed out homemade treats to children who know me, and always with their parents' approval. Over the years, many excited little trick-or-treaters and some lucky grownups have walked away from our door, carefully holding a meringue ghost tucked into a decorated paper sac. The expressions on the children's faces are priceless when they see a sweet, whimsical ghost gazing back at them.
This year, Halloween will be different for many as we limit close contact with others. But it doesn't have to mean an end to Halloween fun. Making and hiding these sweet ghosts for little ones in your household to find, or hosting a backyard hide-and-seek for these and other treats are two simple ways to celebrate this much-anticipated holiday.

For trick-or-treaters or as a sweet surprise for your family or neighbors, these Meringue Ghosts are a spooktacular way to say "Happy Halloween"!
Meringue Ghosts
Ingredients: 3 egg whites, at room temperature
½ teaspoon cream of tartar
¾ teaspoon vanilla
1 cup sugar
1 tablespoon mini chocolate chips
Preheat the oven to 225 degrees. In the large bowl of an electric mixer, whip egg whites until foamy; then add cream of tartar and vanilla. Whip until the whites form soft peaks. Add sugar, a little at a time, and whip until the whites are glossy and form stiff peaks.
Transfer the meringue to a piping bag fitted with a large plain tip (Ateco #4). Line two cookie sheets with parchment paper, adding a dab of meringue to each corner of the cookie sheet to secure the paper.
Pipe 4-inch ghosts, starting with a triangle for the head, then the arms and body. Pipe two additional layers, maintaining constant pressure on the piping bag, until the ghosts are ¾ inch thick. Use mini chocolate chips to form the eyes and mouth.
Bake 1 hour, turn the oven off, and allow the ghosts to dry 2 to 3 hours with the oven door closed. Peel off the parchment paper, cool the ghosts completely on a wire rack, and store them between layers of parchment paper in airtight containers.
Yield: 12 to 14 ghosts