New On Netflix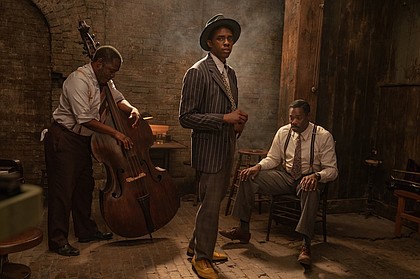 First Look at Viola Davis & Chadwick Boseman in Ma Rainey's Black Bottom
We still get to enjoy the stellar work of the late actor Chadwick Boseman who tragically died this year after a fight with colon cancer. In his final role he stars with Viola Davis in Ma Rainey's Black Bottom. The film directed by directed by George C. Wolfe and written by Ruben Santiago-Hudson is based on the play by August Wilson from 1982. Denzel Washington, p.g.a, Todd Black, p.g.a, and Danny Wolf produced the play set in Chicago. Set in 1927, Davis plays Ma Rainey aka the Mother of the Blues and Boseman is Levee, a trumpeter in Ma Rainey's band. The film centers on Ma Rainey recording of "Black Bottom" and her fight to have control over her music with management. Boseman's character has an eye for music but also for Ma Rainey's girlfriend. Also in the cast are Glynn Turman, Coleman Domingo, Michael Potts, Jonny Coyne, Taylour Paige, Jeremy Shamos, Dusan Brown, and Joshua Harto. The film is scheduled for release in December.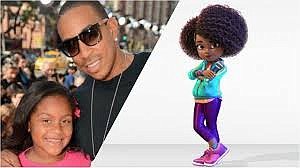 Chris 'Ludacris' Bridges Brings His New Animated Musical Kids Series Karma's World to Netflix
Netflix, 9 Story Media Group and Karma's World Entertainment announce a new CG animated series, Karma's World, created by multi-award-winning American rapper, actor, producer, entrepreneur and philanthropist Chris 'Ludacris' Bridges. The episode series for children ages 6-9 is a coming of age story about a young Black girl finding her voice and using it to change her world -- originally inspired by Chris's oldest daughter Karma and based on the interactive educational website of the same name created by Karma's World Entertainment in 2009. The series will feature original songs which tackle issues such as self-esteem, body positivity, discrimination, creativity, expressing emotions, friendship, family, leadership, celebrating differences and more. Sound design and original music are created and supervised by Chris Bridges and James Bennett Jr., and produced by Gerald Keys.
Ava DuVernay to Write, Direct, and Produce Film Adaption of New York Times Best Seller "Caste" for Netflix
Under her ARRAY Filmworks banner for Netflix, Academy Award and Golden Globe nominee Ava DuVernay will direct, write and produce a new feature film adaptation based on the critically-acclaimed New York Times bestseller and Oprah's Book Club selection, Caste: The Origins of Our Discontents by Pulitzer Prize winner Isabel Wilkerson. Through a multiple-story structure, Caste examines the unspoken system that has shaped America and chronicles how our lives today are defined by a hierarchy of human divisions dating back generations. Caste marks DuVernay's next feature project and her first feature film at Netflix, reuniting her with Netflix executive Tendo Nagenda. The pair worked together on Disney's A Wrinkle in Time, making her the highest grossing Black woman director in American box office history. The project continues Netflix's relationship with DuVernay, who was the first Black woman feature director to be nominated for an Academy Award with her acclaimed documentary, 13th, garnering BAFTA, Emmy and Peabody Awards. Most recently, her limited series When They See Us received 16 Emmy nominations. DuVernay is currently producing a limited series for Netflix based on the adolescent life of athlete and activist Colin Kaepernick entitled Colin in Black & White. DuVernay will produce alongside Sarah Bremner and Paul Garnes of ARRAY Filmworks.