HIATUS SPA + RETREAT DEBUTS HIATUS EVERYDAY PRODUCT LINE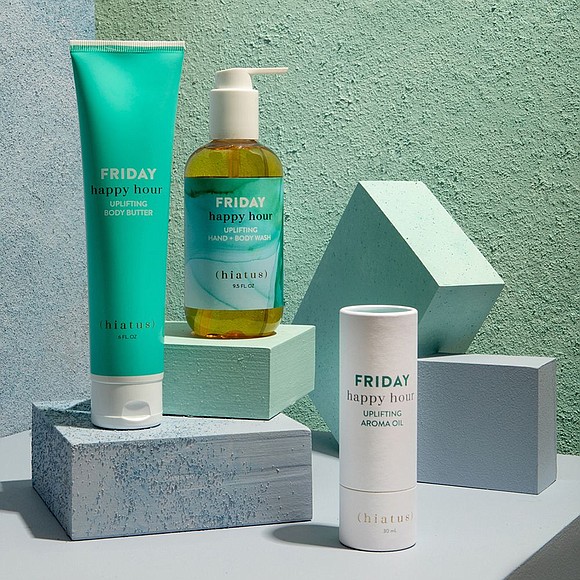 Hiatus Spa + Retreat, the award-winning Texas day spa with eight locations across the state, is excited to announce the launch of the Hiatus Everyday product line, which is now available at all locations and online. The product line features two collections–The Weekend Collection and The Spa Day Collection–and includes over 20 products, such as aroma oil, hand and body wash, body butter, charcoal scrub, and more.
"Five years in the making, this project is truly a labor of love," said Hiatus Co-Founder Sheila Garrison. "Our debut line is an extension of the Hiatus experience, made to enhance daily health and wellness rituals—hence the name Hiatus Everyday. We selected the cleanest natural ingredients and were grateful to have found a Texas partner who crafts exquisite, sustainably sourced, small-batch products, which help to incorporate our core principles into everyday life."
Created to embody each unique day of the weekend, The Weekend Collection features:
The Friday collection embodies freedom–the feeling that anything can happen and that your time now belongs to you. The collection features uplifting and invigorating aromas with Happy Hour, a blend of blood orange, cardamom, and pine needle, designed to put a smile on your face and leave you sparkling; and Recess, featuring white sage, eucalyptus, and spearmint, inviting you to exhale and hold space for whatever's next.
A time to let your mind wander and be inspired, the Saturday collection will leave you feeling content and at peace. The collection blends soothing herbal and calming floral notes in the aromas with Pastime, a blending of layered florals with Amyris and citrus for an interesting yet playful aroma; and Daydream, a combination of lavender, bergamot, and chamomile for a soothing way to rest the senses.
The Sunday collection aims to ease a restless mind and remind us to slow down. The collection brings warming woods, earthy herbals, and a hint of sweet citrus to the aromas with Take Five, a comforting, warm, slightly herbal aroma of frankincense, petitgrain, and sandalwood; and Matinee, a balanced blend of clary sage, lavender, and cedarwood with a hint of floral.
Each day of The Weekend Collection features two unique aromas in the following products: aroma oil, hand and body wash, body butter, and charcoal scrub.
In addition to The Weekend Collection, Hiatus is also debuting The Spa Day Collection featuring three products, including a Margarita Lip Scrub that was inspired by the sweet and tangy grit of margarita salt; Mojito Lip Balm, a velvety balm with refreshing cucumber and bergamot for a fresh take; and All-Clear Aroma Mist, a smudge in a spray with a balance of sage, sweet orange, and cedarwood to bring a moment of ritual to your everyday routine.
Hiatus Everyday products are now available online and in all eight Hiatus locations with product prices ranging from $7 to $27. Throughout the month of October, Hiatus invites guests to Spa for a Cause with $1 from the sale of every Hiatus Everyday product benefitting Peabody Fund: The Cancer Vaccine Project. The packaging design features watercolor images that mimic the art in each of the spas created by Texas-based artist Jan Heaton. The Weekend Collection features colors that are representative of the day of the week–Friday is green, which evokes life and awakeness; Saturday is blue, which has a calming effect; and Sunday is terracotta, which grounds the soul. The team at Hiatus is excited to continue to grow the collection with additional products in the future.
Hiatus Spa + Retreat was founded in Dallas in 2007 by longtime friends Sheila Garrison, Kristin Heaton Peabody, and Bill Garrison. Since the inception of their business, the spa has received numerous accolades, including the Innovate Award, International Spa Association - 2013, Inc. 5000 Fastest Growing Companies 2012 - 2020, American Spa Magazine - Favorite Day Spa 2016, D Magazine's Best of Big D 2013, 2014, 2015, and 2016 - Best Spa, and has eight successful locations in Dallas, Austin, Plano, San Antonio, Houston, and Fort Worth, and Frisco.
For more information on Hiatus + Spa Retreat and to purchase Hiatus Everyday products, please visit www.hiatusspa.com.