A "Santizing Butler" is the latest luxury amenity for safely reopening a residential resort
Iconic oceanfront residences in Miami Beach utilize state-of-the-art monitoring and indicator technology to adjust its health and safety protocols as regulations continue to change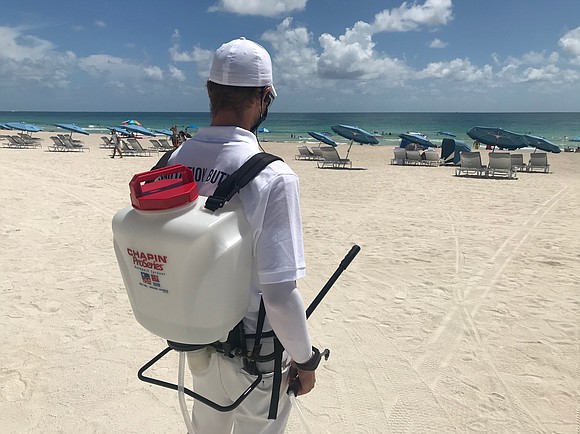 Continuum, South Florida's premier resort-style oceanfront condominium residences, is setting the industry standard for a phased reopening of luxury residential amenities with the help of today's state-of-the-art building technology that harnesses local health and safety guidelines and enables residents to take control of their own wellbeing as the Coronavirus continues to grip the region.
The iconic 523-unit luxury residential community, located on the southernmost tip of Miami Beach, is considered an exemplary model for how residential buildings across the country can phase its reopening plan to keep its residents safe, through integration of the latest online building management software. The Continuum's management team has focused its successful reopening strategy on two major amenities within the property—the Beach Club and Sporting Club—allowing for residents to resume their daily routine within these most popular private areas.
Starting in August, the Continuum Beach Club amenity introduced its own full-time "Sanitizing Butler," giving residents peace-of-mind when enjoying the powdery white sands and turquoise waters of Miami Beach. The Sanitizing Butler is on-hand to ensure all beachfront furniture and table surfaces are fully disinfected before and after each use, by way of Medical-grade, EPA-registered disinfectants, which are designated effective against the COVID-19 virus. The disinfectant is safely contained in a canister that is harnessed on a backpack with spray wand attachment used by the butler for efficient mobility and discretion. The special disinfectant allows lounge chair cushions to be sanitized and deep-cleaned with quick evaporation, while the chair frames, beach umbrella poles and side tables are also routinely wiped to ensure elimination of any micro-bacteria that may reside. Hand sanitizer stations are also located at the Beach Club and residents are offered complimentary face masks, towels and sun protection on arrival. All Beach Club lounge areas are situated at least six-feet apart to ensure social distancing rules are adhered to and all beachfront attendants and servers are fully masked and wearing gloves when serving refreshments.
On June 8th, Miami-Dade County gave permission for fitness centers and gyms to reopen, with local regulations allowing businesses to operate at 75% normal capacity, with minimum social distancing of 10 feet. The safe reopening of the Continuum's Sporting Club, managed and operated by WTS International, proved to be a more poignant challenge for the management team, due to the close-quarter perspiratory and respiratory risks involved.
The three-floor fitness center at The Continuum Sporting Club typically allows for a capacity of 80 people at a time. This was reduced to 20 people, with the implementation of advanced technology to ensure the ongoing safety of all residents during their workout regimen. Fitness equipment such as yoga mats and inflatable crunch balls were removed and spacing between workout machines was increased, with drinking fountains replaced with bottled water.
The Continuum Sporting Club has utilized BuildingLink and its state-of-the-art hardware and software platform, that enables the gym and fitness center to operate at less than full capacity while being able to safely accommodate residents. The BuildingLink Amenity Reservations Module allows residents to make a reservation of a one-and-a-half-hour workout block through an easy-to-use mobile application. A 30-minute period is used at the end of each workout block for a deep-cleaning of fitness equipment, common areas and lockers with EPA-grade disinfectants. The Amenities Reservation Module allows the Continuum management team to limit the number of reservations made by each resident and restrict new reservations from being made more than one day in advance.
As Sporting Club members enter the facility at their reserved time, they must first pass through an automated health check kiosk for a temperature check, whereby individuals with a body temperature of greater than 100.4 degrees will not be permitted entry. The health check kiosk also verifies members are wearing a face mask. A message from the BuildingLink NetVoice Annunciator welcomes the resident through a network-connected speaker that is connected to the public address system to send scheduled and on-demand voice notifications. Netvoice will also remind the resident when their workout period is coming to an end by an automated announcement that proves less intrusive than a personal reminder from a member of the management team.
As the disinfectant cleaning begins, the Aware by BuildingLink module is used, whereby as the staff move from one location to another, it uses the Aware Button Logging System to indicate which areas have been disinfected. BuildingLink tracks this data for both managers and residents who can see each log on their Buildinglink App or when they enter the gym, giving them reassurance the equipment has been thoroughly sanitized for their workout session. Management have a record and detailed log to show the cleaning policy was enforced, thus reducing liability if someone were to get infected. In addition to the state-of-the-art BuildingLink suite of services implemented by the Continuum Sporting Club, the facility has installed an advanced BioGS® HEPA filtration system—an air purifier with 99.97% efficiency of trapping allergens and particles. Hand sanitizer stations and disinfectant wipes are readily available for residents to use during and after their workout. Sporting Club personnel are also required to wear a face mask and gloves at all times while interacting with members or when conducting any contactless transactions.
"Health and safety at the Continuum have always been a number one priority," says Rishi Idnani, Managing Director of the Continuum. "We're taking stringent measures to ensure our community remains protected throughout the entire property. We're proud to offer a world class Sporting Club and Spa for our residents and we know that fitness is an even more essential part of today's lifestyle. BuildingLink offers a state-of-the-art support system that allows us to integrate the important protocols at our Sporting Club to give residents the confidence and comfort level they need to resume their everyday workout routine."
With the absence of in-person Group Classes, residents are able to participate in a daily schedule of virtual fitness classes, especially created by the team of instructors at the Continuum Sporting Club. By logging-on to the popular Periscope app, fitness enthusiasts are able to unite online with their neighbors and classmates from the comfort of their home. The live video streaming app allows gym and studio instructors to conduct their regular class sessions remotely, enabling participants to enjoy their daily workout routine while keeping safe.