All Blaq Everythang Festival Presents Blaq Fridaze + Pop-Ups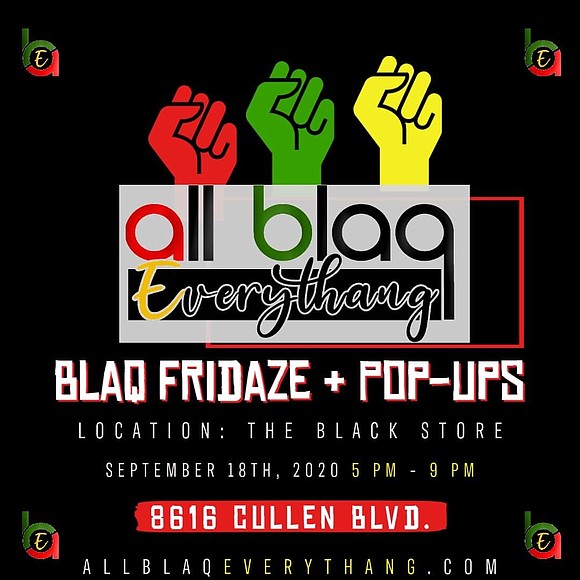 All Blaq Everythang kicked off their highly anticipated Blaq Fridaze + Pop-Up Shop kicked off Vol.1 in September and the turn out was incredible! There were lots of vendors, a food truck, plenty of networking and fun as event goers get a chance to learn more about local businesses in the community. This is an opportune time to spread love, light, peace and togetherness. This year has been peculiar and unpredictable but events like ABE helps keep a light on the importance of cooperative economics.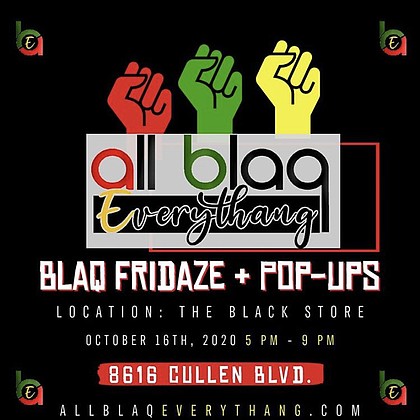 In October, the All Blaq Everythang Tribe will aim for Vol. 2 and their already sold out of vendor spaces! The event is FREE and OPEN to the general public! Blaq Fridaze + Pop-Up will take place for a second round at The Black Store (8616 Cullen, BLVD.) on Friday, October, 16th, 2020 from 5pm-9pm.
About All Blaq Everythang:
All Blaq Everythang was created to amplify love, trust, and a strong strategic buying power within the African American community. In a world lacking in empathy and love and a country experiencing historical uprisings against systemic racism and police brutality, ABE is committed to being a part of promoting cultural maturity. ABE believes a part of the solution to remedy more positive effects within Blaq America is to normalize buying Blaq and elevating US in a safe space.
On Sunday, April 4, 2021, the All Blaq Everythang Tribe will bring one of the most needed gatherings to life for its inaugural one-day adventure in Houston, TX. There will be giveaways, education panels, demos of current and forthcoming products &/or services, a one-of-a-kind market place with various small businesses from near and far, food, art, live entertainment, exhibitions and most importantly an environment to hone healthy networking relationships within the Blaq community. In anticipation of the festival, ABE will host Blaq Fridaze & Pop-Ups across the metropolitan area of H-Town at various venues and restaurants giving prospect festival-goers a sneak preview of what is to come starting in Fall 2020.
Curated by passionately-driven Blaq Entrepreneurs, Tavia Carter and Michelle Tatum's extraordinary energy for assisting in sustaining cooperative economics within the Blaq social structure; ABE has birthed a highly anticipated experience and dedication in the form of our Blaq Excellence & Cultural Maturity Festival.
For more information on how to get involved &/or support Blaq Fridaze + Pop-Ups, please follow the tribe @allblaqeverythang on Facebook and Instagram.
Masks are required. Social Distancing in full effect.
Be sure to stay tuned to www.allblaqeverythang.com