EXPERIENCE THE GREAT OUTDOORS AT CANYON MADNESS RANCH IN NEW MEXICO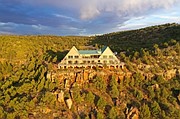 With the arrival of Spring and warmer temperatures, Canyon Madness Ranch opens its doors to guests beginning April 1st, 2021. A luxury ranch set on 14,000 acres of outdoor adventure paradise amongst the geographic majesty of northeastern New Mexico, Canyon Madness Ranch offers thrilling equestrian pursuits, firearm-related sports, and an incredible range of outdoor activities, from sport climbing to archery to hiking to river kayaking and more.
An intimate property welcoming just sixteen guests, Canyon Madness Ranch's extensive land holdings encompass Encierro Canyon, a box-canyon with seas of red clay interrupted by giant twenty-foot-deep crevices. Views look out to the awe-inspiring red sandstone cliffs of the Canadian River Canyon. Mixing the high excitement of adventurous outdoor recreations with the comfort of luxury accommodations and stunning, uninterrupted, and pristine natural beauty, Canyon Madness Ranch is truly a playground for all. Going way beyond any traditional dude ranch, the Canyon Madness Ranch experience offers the quietude and enjoyment of an atmosphere that existed more than a hundred years ago, while still allowing guests to experience twenty-first century comfort.
Designed as a wilderness paradise, the peace and tranquility of the eight-suite Canyon Madness Ranch mixes outstanding architectural design and well-appointed accommodations with state-of-the-art sport shooting facilities, equestrian experiences and training, outdoor pursuits of all types and creative dining. The ranch recently announced the below additional activities and offerings that will welcome guests for the April opening.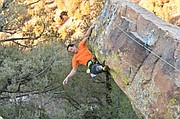 Sport Climbing and Bouldering
The size and nature of the terrain allow the ranch to showcase some of the most adventurous opportunities for sport climbing and bouldering. Guests that are expert climbers are welcome to enjoy the mountains and sandstone cliff faces at their own discretion. An expert sport climber has installed multiple sport climbing routes and has marked many sites for world-class bouldering, climbing and hiking. There is an array of routes to satisfy the curiosity of both beginners and experts. Canyon Madness Ranch is located close to Mills Canyon in Kiowa National Grasslands near Roy, New Mexico, recognized as one of the most wondrous climbing locations in North America. The ranch shares the same Canadian River canyon with Mills Canyon and its cliffs and scenic rock faces make climbing an unforgettable and surreal experience.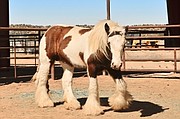 Horse and Equestrian Activities
Guests can set out on trail rides of unparalleled beauty around canyon edges, sunrise, or sunset rides to the gorgeous canyon river, or add excursions to old nineteenth century Indian and homestead sites. The ranch also boasts a large, covered arena for focused training and lessons in disciplines like English cross-country trails and jumping or Western style reining, cutting, cow herding or barrel-racing for beginners through expert-level riders. Canyon Madness Ranch offers guests much more than the common "nose-to-tail" teams of trail riding horses; the ranch houses more than thirty high-quality and well-trained horses, including quarter-horses, paints, Gypsy Vänners and Gypsy Crosses in order to give guests a range of riding experiences.
Canyon Madness Ranch has recently expanded their equestrian adventures by adding a horse-breeding program for Gypsy Vänners and Gypsy Cross horses. These horses are notable for their magnificent appearance as well as their "cold-blooded" nature that makes them ideal for riding by less experienced horse-riding guests. Trails have also been created to allow qualified guests to canter or lope horses amidst the most breathtaking canyon scenery imaginable. Additionally, the ranch has also acquired two magnificent draft horses with driving experience and awaits the delivery of two carriages. The ranch will offer horse-driven carriage rides to guests for recreation or photographic opportunities.
Sport Shooting
Canyon Madness Ranch's firearms program is designed to appeal to a full range of amateur and hobby users to professional or expert firearms enthusiasts. The gun ranges include a pistol range, a rifle range providing a wide range of weaponry, long-range shooting (including scoped rifles to a maximum range of 2 miles), a championship Sporting Clay course and a Trap course. For a unique shooting experience, the ranch offers a military-style firearms experience that includes firing a large caliber Barrett M82-A1 (50 cal.) from the bed of a Humvee that was a veteran of the Iraq War.
The ranch's twelve-station championship quality sporting clay course was designed by Pete Blakeley, a pre-eminent course designer in the United States. At the end of this course is an installation called the "Covey Rise" where five clay-throwing machines eject a myriad of clays randomly and in multiples, suitable and fun for many shooters engaged in shooting these "birds" at one time. In close proximity, there is also an independent trap shooting course for those interested in another dimension of sport shooting.
Just in time for the ranch's opening. all the new extra-long-range rifles have arrived and are ready for use. These new weapons for sport shooting allow guests to experience the range of professional sniper or extra-long shooting by engaging targets up to and over 2 miles away using advance telescopic viewfinders. In other news, Canyon Madness Ranch is presently building a mounted shooting program for pistols and rifles that will be thrilling for even novice riders and shooters. Pistol shooting on horseback involves the safety of firing "blank" ammunition while the ranch has horses trained to accommodate shots fired from their riders.
Cuisine
The Canyon Madness Ranch kitchen focuses on presenting a culinary experience of the most unusual kind, serving dishes uncommon in traditional high-end restaurants in town. With an emphasis on a farm to table bounty, chefs focus on healthy, organic, farm-raised, and more exotic meats including buffalo and ostrich, spices, and tastes. The ranch will house an ostrich farm with two adults producing fresh eggs for the menu. Canyon Madness Ranch has committed to raising ostriches not only as a ranching activity, but also as a means to provide highly sought-after meat to complement their cuisine at the ranch. The ranch has recently started creating their outdoor vegetable garden as a prelude to a future greenhouse horticulture. These new additions will allow the cuisine at the ranch to gradually offer more farm-raised products for guest consumption. Most dietary restrictions can be accommodated if notified at the time of booking.
The Landscape
With a total of 14,000 acres, the ranch offers enough terrain of all types to satisfy the recreational desires of any guest. The awe-inspiring landscape, kept pristine by lack of excessive human activity, is home to abundant and diverse flora and fauna and scenic and soaring cliffs and rock formations. The two bookend canyons that define the majesty of this ranch provide a visual impact of maddening proportions. In person, the scale of this grandeur is overwhelming. On one side, the steep river canyon is lined by multiple layered cliffs of red sandstones and moss rocks and houses more than two miles of the Canadian River, the longest tributary of the Arkansas River rising from the Sangre de Cristo Mountains. On the other side, the ranch features the remarkable Encierro "Box" Canyon with steep edges and measuring more than two and a half miles in diameter. Incredible geological formations of countless deep crevices in the red crusted soil set the scene for the legendary kaleidoscopic sunrises and sunsets of New Mexico. Nature enthusiasts will appreciate this pristine landscape that is home to abundant and diverse flora and fauna.
Opening Offer
For those who have lived in recent seclusion, celebrate your freedom and the most luxurious form of social distancing with the serene beauty of Canyon Madness Ranch, where spectacular wilderness is mixed with the pleasures of extreme adventures – a precisely needed therapy for mind and body. Canyon Madness Ranch is offering an opening offer of an all-inclusive price of $500USD per person per night for any number of nights, inclusive of lodging, activities/excursions, food, and beverage (wine, beer & sake). This special offer is valid for any length of stay throughout the 2021. Bookings for three to five nights normally are priced at $700USD per night.