NAACP Condemns UT Fight Song "Eyes of Texas"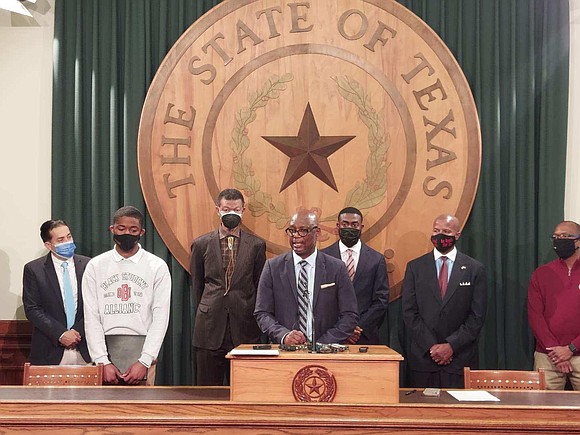 The Houston NAACP is out front on major matters facing the African American community and the community at large!
Houston NAACP President, Dr. James Dixon weighed in on issues at the Capitol in Austin this week. On Monday, he joined NAACP Texas President, Gary Bledsoe and Rep. Ron Reynolds, to stand with students of University of Texas at Austin, protesting the racist history and lyrics of UT's Fight Song, "The Eyes Of Texas".
Law student, Anthony Collier, is leading the student opposition group that is seeking change. The NAACP Houston Branch will continue our advocacy in support of the student's protest to include local and statewide strategic efforts.
NAACP Houston Branch President, Dr. James Dixon states, "It was an honor to stand with the UT student led delegation condemning the racist history of the Eyes of Texas in connection with the university. There should be swift action taken by the school's leadership to address this and other matters that depict the university's support of a past that was influenced by those who were misguided concerning racial equality. In 2021, every reasonable effort should be made to ensure that all present and future students are respected, no matter their race, color or creed. In so doing, the University of Texas will become a 21st century model for the nation and the modern movement of civil and human rights."