Justices Erin Nowell, Amanda Reichek, Launch 2022 Campaigns for Texas Supreme Court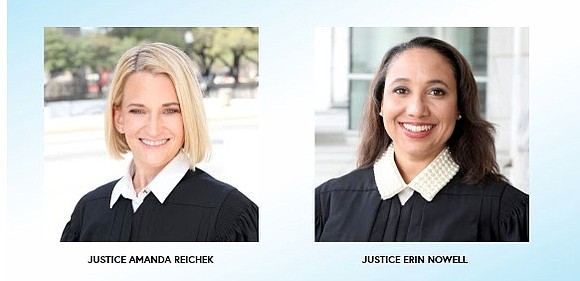 Justice Erin Nowell and Justice Amanda Reichek, both of whom sit on the 5th District Court of Appeals based in Dallas, today announce plans to campaign for the Texas Supreme Court during the 2022 cycle. Justice Nowell will seek Place 3, Justice Reichek Place 5. The two Democrats were elected to the 5th District Court of Appeals in 2018 as voters demanded new perspectives and greater diversity on intermediate courts throughout the state that had been dominated by one party for decades.
"I look forward to bringing integrity, experience and a new perspective to this campaign," said Justice Nowell. "I am also proud to continue to trailblaze for the diversity that is sorely needed in our court system and that voters have clearly indicated they want." Justice Nowell is currently the only African-American justice on any intermediate court in Texas.
"As justices, we follow the law and the facts to seek just outcomes. We are a source of recourse for those who believe justice was denied at the trial court level. It's an awesome responsibility, and it is critical that we have justices serving on the state's highest court who can be fair, independent and objective," said Justice Amanda Reichek. "The law is our arbiter, yet our courts benefit from justices with new perspectives, experiences and backgrounds who care about justice above all else."
Justice Reichek has 18 years of combined legal and judicial experience. She is a graduate of Texas Tech School of Law and is Board Certified in Labor & Employment Law by the Texas Board of Legal Specialization. Much of her practice history focused on representing labor unions and employees.
Justice Nowell is a graduate of the University of Texas School of Law and has 18 years of combined legal and judicial experience. She was selected as a Texas Super Lawyer Rising Star from 2015-2017. She was named one of the National Bar Association's Top 40 Advocates Under 40, and was honored with the 2018 Texas Women Lawyers Brenda Tso Rising Young Lawyer Award.