GLO Skin Beauty: Hydra-Bright AHA Glow Peel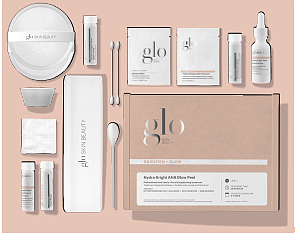 DESCRIPTION:
Hit refresh on skin's radiance and deliver a boost of brightening benefits with the pro-level Hydra-Bright AHA Glow Peel at-home kit. Targeting dullness, dehydration, and dark spots with a blend of vegan lactic + ferulic acids, this reparative peel shields skin from damaging free radicals caused by pollution, smoothing and reducing the appearance of fine lines and wrinkles. And, unlike other peels, this transformative treatment also replenishes while it refines, nourishing the skin with hydrating hyaluronic acid and anti-inflammatory botanicals, making it suitable for all complexions - even sensitive.
At Level 1 it's the ideal intro to at-home peel treatments.
Peel-Time: 20 minutes
Down-Time: 0-5 days
Formulated for universal use for all skin types and tones.
NOTABLE INGREDIENTS:
VEGAN LACTIC ACID: Brightening and firming, this large molecule alpha hydroxy acid offers mild surface-level exfoliation.
FERULIC ACID: A powerhouse protective antioxidant, it neutralizes free radical damage caused by the sun and pollution, minimizing the appearance of dark spots, and reducing the formation of fine lines and wrinkles.
NIACINAMIDE: Restores and repairs skin's barrier, smoothing and reducing signs of aging.
HYALURONIC ACID: Conditions the skin with a dose of quenching hydration, to buffer and balance the peel process.
KEY BENEFITS:
BRIGHTENS: A blend of brightening botanicals + AHA, imparts a revitalized radiance.
TREATS: Amplified antioxidants offer anti-pollution protection, treating hyperpigmentation issues, and smoothing the appearance of fine lines and wrinkles.
HYDRATES: Delivers deep, replenishing hydration to dry, dull skin.
While this is a single use peel treatment, the serum included in the kit is a 2-4 week supply, depending on how often you use it. For maximum brightening results, use 5 times per week following the peel (for 2 weeks), or if you have more sensitive skin, use 2-3 times per week (for 4 weeks).