Kroger Distributes Thousands of Cases of Bottled Water to Local Community Organizations
Kroger donated pallets of water to several organizations to distribute to Houstonians in need.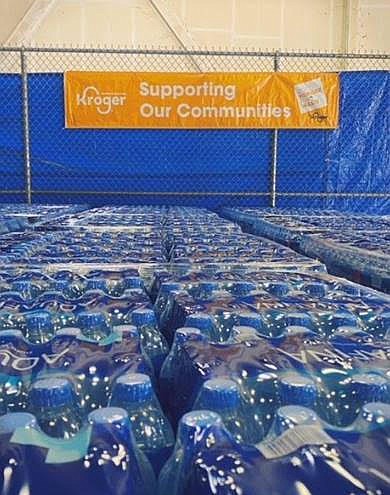 Today, as much of Greater Houston and surrounding areas are faced with an ongoing water boil notice, and many Houstonians without access to water, Kroger has partnered with several organizations across Houston in an effort to get bottled drinking water to those most in need.
More than three thousand cases of bottled water were distributed by Kroger today to local organizations including the Houston Food Bank, Montgomery County Food Bank, City of Houston Office for People with Disabilities, Montgomery County Office of Emergency Management, The Bridge Women's Shelter, SPCA, along with the Houston Fire Department, who will help distribute the cases of water to vulnerable Houstonians.
"As we work round the clock to bring groceries and supplies of water to our stores to provide for our community, it's important that we also take care of the families and individuals who may be experiencing hardships or may not be able to visit a store," said Joe Kelley, President of Kroger Houston. "That's why we are working closely with a number of community partners to help get water to those who need it most."
Earlier today, Kroger and Burns BBQ partnered to give away 2000 hot meals to the community at the Kroger located at E. Sam Houston Parkway N.
In addition to supporting local community organizations, Kroger is providing relief to associates across Houston affected by the winter storm through it's Helping Hands Fund, which gives grants of up to $2000 to employees in need of support during a crisis or emergency.