Mostyn Law Commissions Artwork Saluting Vice President Kamala Harris
Paintings by local artists to be awarded in a consumer giveaway with Majic 102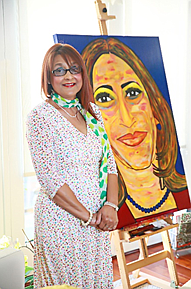 Amber Mostyn and Mostyn Law have commissioned original works from a number of local artists, inviting them to share their personal interpretations of the image of Vice President Kamala Harris. These works, created by Linda Simien Kelly, Rico Edwards and Kaima Marie, among others, will be awarded in an online consumer sweepstakes with Majic 102 (KMJQ-FM/Houston), in support of Mostyn Law's 1-800-TRUCKWRECK initiatives.
"We're celebrating an unprecedented achievement in the pursuit of equality, opportunity and social change," observes Mostyn. "Kamala Harris bears many distinctions. She is the first African American vice president. She is the first vice president of South Asian descent. And she is the highest ranking female elected official in our nation. Kamala's record-breaking achievements deserve endless tribute. At Mostyn Law, we want to share our salute with Houston, as the world witnesses a renewal of the soul of our nation."
The Mostyn Law "Soul of the Nation Salute" is now underway. Houston-area residents may register to win these paintings at www.1800TruckWreck.com/win, the same online platform used by Mostyn Law to award $10,000 in local restaurant gift cards last fall. The deadline for entries is March 13, 2021, followed by the announcement of four randomly selected winners, who will each receive one of the four commissioned pieces. Official rules for the giveaway are available at www.1800truckwreck.com/win.