Lone Star College – Houston North Opens Its Fourth Location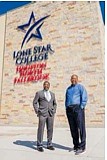 Lone Star College-Houston North is the seventh college within the Lone Star College System. It con- sists of Fairbanks, Greenspoint, and Victory locations and will now in- clude a fourth location named Fall- brook. The location was built in col- laboration with Fallbrook Church and will reside on the same premises.
"This location is the best exam- ple of a community-based partnership that I have encountered during my 18 years in higher education. I commend Pastor Pender, and Lone Star College Chancellor, Dr. Stephen C. Head, for their commitment to increasing college attainment in the North Hous- ton Community" stated Dr. Quentin Wright, LSC-Houston North President.
Michael A. Pender Sr., Found- ing and Senior Pastor of Fallbrook Church, has been a longtime supporter of educational institutions and was instrumental in the development of the Fallbrook location. "Our community needs empowerment and apart of eco- nomic empowerment is education. With this location being here it will bless thousands of students and give them an opportunity to receive and education. Lone Star College is also offering them workforce programs for them to get jobs which is a tremendous opportunity."
The programs that the Fall- brook location will offer are Associate of Arts, Teacher Preparation, Logistics Management, Gaming Design, Mobile App Design, and Associate of Science. The classes will be offered in an 8-week format which gives students the ability to take fewer classes at one time and focus on fewer subjects making it easier to balance responsibilities outside of school. A weekend college is also apart of the offerings where a student can take classes one day a week and in under two years they can graduate with a degree.
One of the core values of LSC-Houston North is "students first" and the college offers wraparound ser- vices in order to fulfill that value. The Fallbrook location will also provide the same wraparound services that are offered at all of the college's locations which include a mentorship program for all first time in college students, access to the food pantries known as CARE Centers, career counseling services, and other forms of student assistance.
Registration is open for all Lone Star College-Houston North loca- tions including Fallbrook. In addition to regular registration, the college will host two in-person Super Saturday events on January 9 and 16 from 9:00 a.m. to 2:00 p.m. Representatives from multiple de- partments such as admissions, advising, and financial aid will be in attendance.
For more information about LSC-Houston North, go to www.LoneStar.edu/HoustonNorth.
Lone Star College offers high-quality, low-cost academic transfer and career training education to 99,000 students each semester. LSC is training tomorrow's workforce today and rede- fining the community college experi- ence to support student success. Stephen C. Head, Ph.D., serves as chancellor of LSC, the largest institution of higher education in the Houston area with an annual economic impact of nearly $3 billion. LSC consists of seven colleges, eight centers, two university centers,