NAACP Houston Branch Condemns City Councilman – Greg Travis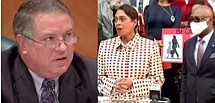 Just because you can say something doesn't mean you should. Houston City Councilman Greg Travis recently said something he shouldn't have. Taking to his personal social media account on Facebook Travis posted a photo of former First Lady Michelle Obama with her legs uncrossed and a photo of Melania Trump with her legs crossed with the caption "Yep, just saying."
Other comments made by Travis were attacks against Obama's education. Saying she only got admitted to Harvard because of affirmative action. She was born with her qualifications," he added.
Of course, these comments had a lot of people talking including some calling for his resignation. Travis has refused to resigned and refused to apologize for his remarks that also included derogatory words against Vice President-Elect Kamala Harris.
The NAACP is joining others to demand that action be taken against Travis. In a statement about the post the NAACP said:
"Recently, District G Houston City Councilman Greg Travis made discriminatory statements against Black Women and women in general. Disparaging remarks that he published in his social media posts were directed to Houston businesswoman and philanthropist, Laurie Robinson. Ms. Robinson, Black female entrepreneur, is respected throughout Houston, and the nation. The councilman's derogatory comments depicted Black women as generally incompetent and immoral. Singling out former First Lady Michelle Obama and Vice President Elect Kamala Harris, he claimed that their high achievements are only due to affirmative action for which they qualified at birth, having been born Black, and on sexual favors to get ahead. Travis also made debasing comments about Hillary Clinton. Clearly, these comments reflect Greg Travis's ignorance and racial bias. Obviously, someone of this mindset is not fit to represent, neither fairly serve Houston's diverse populous. Detailed comments were made at the press conference on Tuesday. "
This has outraged communities across the nation, especially with Black women, but all the controversy doesn't seem to faze Trump. He has blatantly said he wasn't going to apologize for having an opinion or having free speech,
The post has since been taken down by request of Mayor Sylvester Turner.