Lipstick is Back! Now You Can Buy One For a Domestic Violence Survivor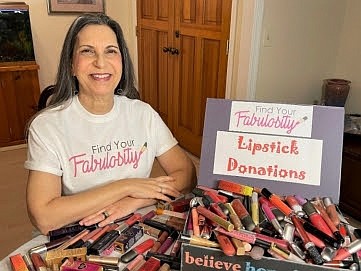 July 29th is National Lipstick Day and as we transition back to a mask-less society experts expect lipstick sales to surge. Find Your Fabulosity, a 501c3 non-profit organization founded by Sheryl Kurland (below, left) collects lipstick donations and donated them to victims of domestic violence via women's shelters, nationwide, as a means of lifting the womens' spirits and bringing them back into their feminine power.
To date, Sheryl and Find Your Fabulosity have donated 70,000 lipsticks to 200+ women's shelters across all fifty states. She hopes to reach 100,000 donated lipsticks by the end of 2021! In addition to corporate donations from cosmetics companies and women's organizations, Sheryl's work also depends on individual beauty consumers who pick up an extra lipstick to donate to FYF when they are purchasing a lipstick for themselves.
When Sheryl Kurland began traveling the country doing interactive speaking engagements for college women he was stunned at the amount of sexual assault and abuse these young women confessed to and needed to learn more about this subject.
ImageIn summer 2015, while completing a course on domestic violence, Sheryl says, "I had, perhaps, the biggest a-ha moment of my life. I thought, 'I wonder if I could take the on-campus programs I did for college women and change it to relate to women experiencing domestic violence and abuse.'"
After connecting with local battered women's shelter, Safe House, Kurland was moved to action. She immediately inquired about setting up an interactive workshop program for the women residing at Safe House. After getting her certification through the Florida Coalition Against Domestic Violence, Sheryl started hosting workshops through Safe House at secluded, confidential locations where the women would feel safe.
ImageAccording to Sheryl, "For these women who have escaped the most unfathomable abuse you can ever imagine, I wanted to be sure they were not having to rehash the hell they'd been through. I wanted to play a role in helping them re-build their self-esteem and learn how to build healthy relationships going forward."
She saw these beautiful women sitting at her workshops who had no idea who they really were anymore; their self-esteem in tatters. As Sheryl explains it, "Growing up my mother always said, 'Sheryl, if you want to feel better, just put on a little lipstick.' I went to the local pharmacy and picked up a pile of lipsticks in many different textures and colors, and I started giving them out at my workshops."
Sheryl found that these lipsticks transformed the energy of the women in the room. "I witnessed their pain momentarily dissolve as they helped each other pick out the right shade, chitchatted and bonded over the application of the lipsticks, and they became women again." Kurland says the transformation from something so simple was astonishing, and she wasted no time forming the 501c3 non-profit foundation, Find Your Fabulosity, which, to date, has donated 70,000 lipsticks to women residing in 200 shelters across all 50 states.
For lipstick donations, "We began by asking large companies like Target and CVS to donate lipsticks to our cause. Then word spread and various women's groups, book clubs, businesses and church groups started holding lipstick drives for us," she says.
Image
Lipstick donations began pouring in by the boxloads, including donations from cosmetic companies including Thrive Causemetics, Kari Gran Cosmetics, The Beauty Crop, Nu Evolution, City Color Cosmetics, Tarte Cosmetics and others.
"Lipstick means so much to the average woman," says Sheryl, "You can only imagine how much it means to women who have been victims and survivors of domestic violence and abuse. It means the world to them, and you can see the spark re-enter their eyes."
Find Your Fabulosity works with thousands of volunteers, packing and shipping lipsticks to send to women's shelters. In between, she and her staff of volunteers read the touching letters that flood in with lipstick donations. "We receive letters from women all over the U.S., along with their (brand new/never used) lipstick donations, telling us their own domestic abuse survival stories," says Sheryl. "Lipstick can't fix the problem, but it can make these women feel more whole."