Local Beverage Pioneer Creates A Booming Crafting Business: Meet The Brands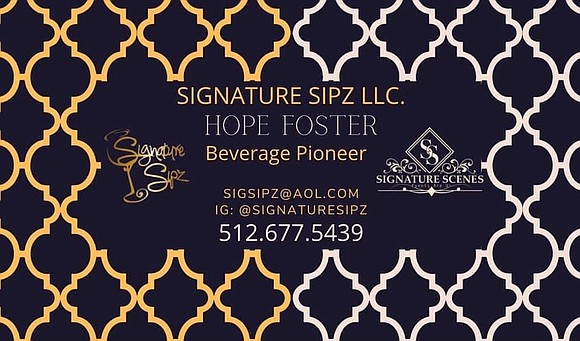 Black History is 365 and we are toasting to a local Beverage Pioneer by the name of Hope Foster in addition to highlighting brands she has curated with her magical mixology. Signature Sipz, LLC. is the key ingredient behind several beverages that sit on the shelves of your favorite package stores from coast to coast. From pairing a glass of Moscato with a seared spicy steak OR enjoying a dry yet a desirable blend with a cheese tray, Sig Sipz is consistently birthing unique flavors. The company not only provides a wonderful opportunity to those seeking an additional financial stream but an enjoyable avenue to present to the world!
Let's start with President/Founder, Hope Foster, her unique line of Mojitos and exclusive Zodiac concoctions can be located via online at www.StopWynen.com.
Hope's specialty is blending Moscato Wine and the people have spoken! Here is a list of OUTSTANDING Beverage Brands Sig Sipz is working with, be sure to check them out!
Queen Ransom Beverage Collection
& last but not least......
Hope Foster President/CEO of Signatures Sipz, LLC. & Stop Wynen Mojitos
Hope Foster is a Celebrity Mixologist, President/CEO & Master Crafter of Signature Sipz, LLC. and Stop Wynen Mojitos/Zodiac Sipz based in Houston, TX. Four years into elevating her dream, the vivacious drink curator started her parent company Bottums Up Beverages in 2007, an exclusive mobile bar service. From 2009-2011, Hope worked for The House of Deréon with well-known record executive and businessman Matthew Knowles. Sig Sipz has serviced signature cocktails for Real Housewives of Atlanta stars Kandi Burruss (Award-Winning Singer/Songwriter) and Phaedra Parks (Attorney), T.I.'s mom Violeta Morgan and many other stars. Shortly thereafter, she decided to launch a bar school called School of Bartenders &Mixologist (B.A. Mixologist) in the midst of being a 3rd and 5th grade teacher. In 2012 Sig Sipz obtain her first client. The following year Hope infused her passion into bottling unique alcoholic blends with Signature Sipz, LLC. a customized crafting company that has produced a game-changing event titled, Cocktail Chroniclez. Hope also gave birth to Stop Wynen Mojitos in 2017 which has produced over 15 mouth-watering flavors. The highly anticipated Cocktail Chroniclez has brought Love & Hip-Hop star Mama Dee (Scrappy's mom) to Houston, TX in 2019 and is a momentous 6 years in the making platform for Sig Sipz clients. The Beverage Pioneer is making a buzz with her 2021 launch of Zodiac Sipz. The serial entrepreneur is currently brewing up some incredible announcements to come and we can't wait to hear and see what's next!
Interested in crafting your own beverage?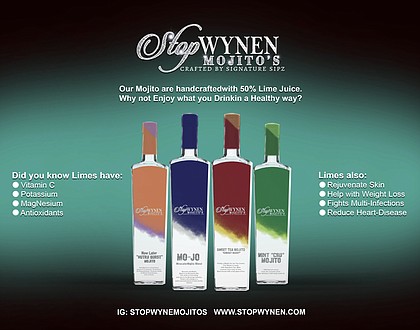 Signature Sipz launched four Signature Mojitos in 2020!
Nutra Burst Mojito for vitamin intake & weight control.
Sweet Tea Mojito for energy and focus.
CBD Mojito for relaxation and anxiety.
Mojo for happy times and enjoyment.
Save The Date: September 19th, The 6th Annual Cocktail Chroniclez will be an event you do NOT want to miss! The highly anticipated event will take place at Starshine Texas (11070 Hirsch, Rd. Houston, Texas 77016). The celebration is a great way to meet the individuals behind the brands, taste the beverage and make a bottle purchase!
Feel free to follow @signaturesipz @stopwynen on FB, Instagram & Twitter for more information on Cocktail Chroniclez and much more!