Backstage At The 63rd GRAMMY's: DaBaby Describes His Reaction To Being Nominated For 4 GRAMMYs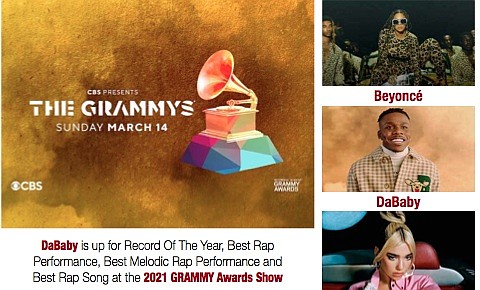 DaBaby was nominated for two GRAMMYs at the 2020 GRAMMY Awards show; now, for the 2021 GRAMMY Awards show, he›s doubled his luck.
Rap Performance, Best Rap Song ("Rockstar(opens in a new tab)") and Best Rap Performance ("BOP(opens in a new tab)").
Check out the complete list of nominees at link below, watch DaBaby give his final thoughts before the ceremony below and don't forget to tune into the 2021 GRAMMY Awards show this Sunday, March 14 to watch DaBaby perform—and find out if he will win!
"It definitely felt twice [as] impactful as last year," the rapper says in the latest episode of Backstage At The 63rd GRAMMYs. "I made a bold statement when I was nominated for them last year. I said, 'I'm going to be at the GRAMMYs and will be nominated every year of my career as a mainstream artist.'
They don't call her "Houston' queen for nothing. With 79 nominations and 24 Grammy wins, Beyoncé is the most-nominated female artist in GRAMMY history.
"It's definitely a repayment for the work that I put in over the past year," he continues, noting that the COVID-19 pandemic has been a presence in our lives throughout.
Backstage At The 63rd GRAMMYs: Dua Lipa Gives Her Final Thoughts Before Music's Biggest Night
However, because DaBaby put his nose to the grindstone while the world ground to a halt, "It's definitely showing me that the work I put in was abso- lutely worth it." Now, for the 63rd GRAMMY Awards, he's nominated for Record Of The Year, Best Melodic
www.Grammy.com/Grammys/news/2021-gram- mys-complete-nominees-list