Dr. Richard Fountain of Houston, TX is Nominated by Steinway Selection Center of Houston for Steinway Teacher Hall of Fam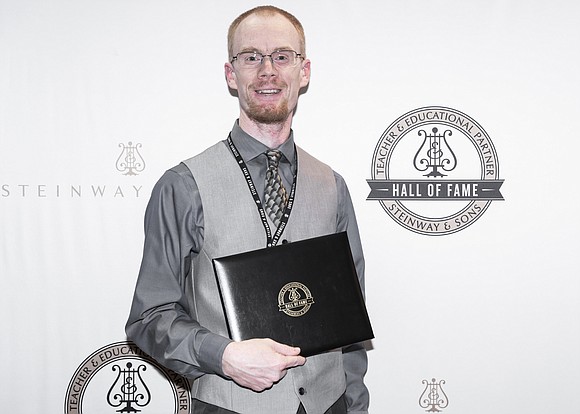 Local piano teacher from Houston, TX, Dr. Richard Fountain has been inducted into the Steinway & Sons Teacher Hall of Fame, a prestigious designation recognizing the work of North America's most committed and passionate piano educators. 2021 marks the second class of honorees, following the Hall of Fame's inaugural class in 2019.
In any given month, you might find pianist Richard Fountain performing Liszt's piano sonata, touring with the Tchaikovsky piano trio, and performing a Beethoven concerto, all while teaching students how to translate Mozart onto the modern piano. Fountain plays all these roles enthusiastically, combining world-class musicianship with a sense of humor and a joyful spirit. Originally from Springfield, Nebraska, Fountain began studies with his mother Judy and continued with David Gerard. He then studied with Leon Harshenin at Taylor University and with Paul Barnes at the University of Nebraska-Lincoln. Fountain holds the positions of Principal Keyboard with both Lincoln's Symphony Orchestra and the Lubbock Symphony Orchestra. Fountain is full Professor of Piano at Wayland Baptist University in Plainview, Texas, where he teaches applied and collaborative piano and entrepreneurship, directs the Wayland Singers Chorus, and collaborates with Wayland's International Choir. Fountain earned an MBA in Management from Wayland in 2019 and is a committed advocate for mutually beneficial interaction among artists, administrators, and business professionals.
Located in downtown Houston, the Steinway Selection Center offers piano buyers a selection process similar to the one offered at the famed Steinway Factory Selection Room in the Steinway & Sons factory in New York. The Steinway Selection Center in Houston provides the opportunity to select a Steinway concert grand piano in a private setting without distractions. It allows you the ability to compare the unique and individual musical personalities of several different Steinway pianos.
This fall, 44 teachers from the United States and Canada were inducted into the Steinway Teacher Hall of Fame with special events hosted at the historic Steinway factory in New York City. Each teacher inducted into the Hall of Fame was nominated by a Steinway & Sons showroom in the teacher's home region. The teachers' names are now displayed on a commemorative display wall inside the iconic factory.
"Music education has been a cornerstone of our historic company since the late 1800s, and today is no different," said Gavin English, President of Steinway & Sons Americas. "We are very proud to work with the talented music educators inducted this fall into the Steinway & Sons Teacher Hall of Fame. These teachers foster passion, creativity, and discipline in the next generation of piano artists. Their work deserves the highest praise."