Houston Museum of African American Culture Host An Unforgettable Cultural Trip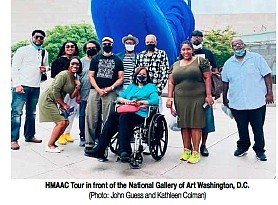 Houston Museum of African American Culture hosted a well planned cultural trip to Washington D.C. and Richmond, Virginia. First, travelers experienced a Houston cultural correlation to the U. S. at the Virginia Museum of Fine Art (VMFA) to view "The Dirty South" curated by Valerie Oliver Cassel, senior curator at the VMFA, who hosted a tour of the exhibit for the museum travelers. Then, at a visit to the National Gallery of Art (NGA) in Washington, D.C, the group was provided with an NGA tour through the efforts of NGA curator Kanitra Fletcher and Mercedes Derricott. The tour allowed the group to see the work of several great artists. HMAAC is committed to individuals experiencing art, history, and culture in all areas of the U. S. This Art and Culture trip was an example of that and included an HMAAC raffle ticket winner who had an all-expenses trip paid for by an HMAAC Board member.
Curated by Valerie Cassel Oliver, VMFA's Sydney, and Frances Lewis, Family Curator of Modern and Contemporary Art, the groundbreaking exhibition explores the legacies of traditional southern aesthetics in contemporary culture. It features multiple generations of artists working in a variety of genres. Among those featured in the exhibition are Thornton Dial, Allison Janae Hamilton, Arthur Jafa, Jason Moran, Sister Gertrude Morgan, Kara Walker, William Edmondson, and many others. Inherent to this discourse is the rise of southern hip-hop. Thus, the exhibition's visual and sonic culture presentation looks to contemporary southern hip-hop as a portal into the roots and aesthetic legacies that have long been acknowledged as "Southern" in culture, philosophical thought, and expression.
Houstonians Earlie Hudnall, Robert Hodge, El Franco Lee and Jason Moran are a part of the exhibition "The Dirty South," which will travel to cities in the U.S, including Houston at the Contemporary Art Museum Houston. These artists show different genres of music, photography, and mixed media art. A delight to view their works included with Kara Walker and Thornton Dial.
A visit to the National Gallery is a must in D.C. as a reminder of our countries artistic past. Included in the trip were free time and visits by friends such as Dr. Regenia Perry from Richmond, Virginia. In addition, beautiful meals were had at Art and Soul restaurant and lunch on the Virginia Museum of Art Campus.
Next time, please join HMAAC for an informative and quaint field trip. Learn more at www.HMAAC.org