The Obama Portraits Tour Opens April 3 at the Museum of Fine Arts, Houston
Featuring the acclaimed portraits by Kehinde Wiley and Amy Sherald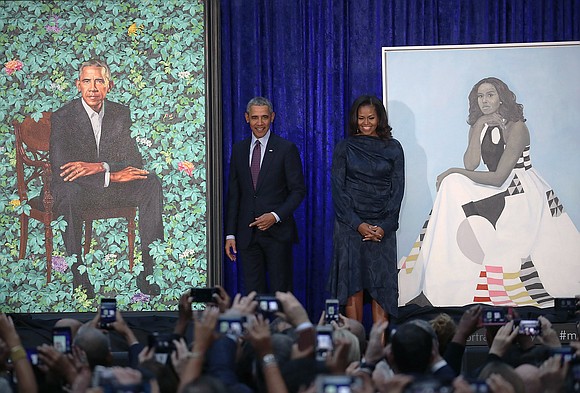 This Spring the Museum of Fine Arts, Houston will host the Smithsonian's National Portrait Gallery tour of portraits of President Barack Obama and Mrs. Michelle Obama by artists Kehinde Wiley and Amy Sherald. The acclaimed portraits will be on view from April 3 through May 30, 2022.
"Not only do these iconic portraits feature history-making subjects but they were created by groundbreaking artists," said Gary Tinterow, Director and Margaret Alkek Williams Chair, the Museum of Fine Arts, Houston. "The MFAH is excited to provide our visitors the opportunity to experience the power and beauty of these celebrated works in our museum."
The paintings were commissioned by the National Portrait Gallery and unveiled Feb. 12, 2018, in the presence of the Obamas and the artists. Wiley and Sherald are the first African American artists to have been selected for the Portrait Gallery's official portraits of a President or First Lady. The two artists worked independently from one another; however, in painting these two portraits Wiley and Sherald effectively re-envisioned the centuries-long tradition of representing political leaders. Before photography, painted portraits often served as the primary image of a U.S. president. Today, our presidents and first ladies are constantly in the spotlight and both formal and informa photographs of these subjects are ubiquitous throughout mass and popular media.
The two paintings present a striking contrast to the formality of earlier presidential portraits and images of first ladies. Both artists worked in close consultation with their sitters and used photographs as working tools as they planned their compositions. Her dress by Milly designer Michelle Smith carries meaning as well, referring to both the modernist traditions of abstract art and the traditional patterned quilts of Gee's Bend.
Through the presentation of these now-iconic works by Wiley and Sherald, the exhibition contemplates how portraiture has given visual form to ideas of power, identity, status and legacy throughout history.
The Obama Portraits Tour
Cullinan Hall, Caroline Wiess Law Building
April 3 – May 30, 2022
More information available at www.mfah.org/obamaportraits