Reign's Essence, Black Woman owned brand of eco-friendly candles and diffusers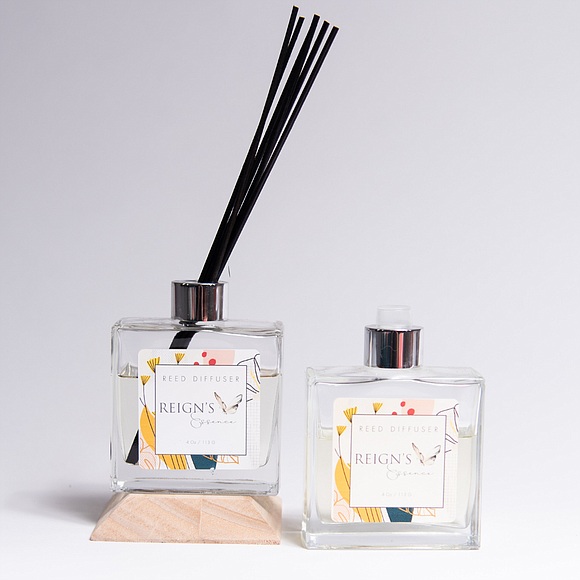 Smelling can arouse emotion, leading to a shift in mood and mindset. Why not have candles, a diffuser, or a room spray that helps promote positivity, release endorphins, and relaxation?
Reign's Essence is a Black woman owned brand that features eco-friendly candles available in different scents crafting unique smelling products with a gluten free soy wax sourced from US grown soybeans, toxin free, and paraffin free ingredients. The eco-friendly clean burning wood candle wick made from FSC certified wood is also hand crafted in the USA. All of this is packaged carefully in a reusable glass container.
The Spring Collection includes Rum Punch, Coco Loco, Ocean Breeze, Purple Rain, and Mango Tango. Each candle sold at $21.
"Reign's Essence products will always bring you back to your true essence of being. Each product is perfectly curated and made with love." says Arenini Arzu, founder of Reign's Essence, who is also a Speech Language Pathologist.
Scent Profiles :
Baby's Bottom: Your favorite baby's bottom. Baby Powder Scented.
Tropical Vibes: Your favorite summer scent! A splash of mango, peach, coconut and oranges blended together, to bring forth an amazing fruit medley.
Chai Me, Please: Our chai is made with the perfect blend of cinnamon, cardamom, nutmeg and vanilla. You can smell the chai from across the room. This scent is great for fall.
Zen: Stress? Need a break? This scent is for you! It's a nice combination of eucalyptus and peppermint, to give you a nice calm & zen vibe.
Amber Nights: It's the perfect blend of fresh woods of mahogany, oak and wood. Grab a blanket and get cozy by the fireplace.
Sweet Love: It smells like your grandma, nana and glamma's favorite lemon cake.
Choose from a variety of different candles like Reign's Mini Bundle for $25 which includes 6 candles in 2 oz jars. Mini Bundle sold for $25.
Other scents like Baby's Bottom, Amber Nights, and Tropical Vibes are available in a candle or a Reed Diffuser. The Reed Diffuser provides the same great smell with less maintenance and can give you up to 6 months of scent life. The diffusers are made phthalate free, lead free, and cruelty free premium fragrance oil.
Reed Diffuser is sold for $24.
Goat milk soap is a gentle cleanser rich in fatty acids that can help support a healthy skin barrier to keep skin nourished and moisturized. It has a high lactic acid content which may help to gently exfoliate the skin.
Reign's Essence is giving you the scents you love in a variety of ways. Like the Room & Linen Spray for a quick refreshing scent. Room & Linen Spray sold for $18. Along with candles and diffusers, Reign's Essence offers accessories like a Gold Wick Trimmer for $12, tote bags, and gift cards.