Black Celebrity Soul Food Chef, Rene Johnson's, Heart Healthy Movement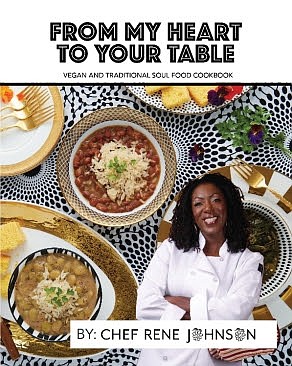 "One of the best ways you can celebrate this upcoming Black History Month is by honoring your health and longevity, and the health and longevity of your loved ones, through making some strategic tweaks to your favorite family recipes." - Chef Rene Johnson
Starting 2022 off on the right foot doesn't have to mean giving up culturally relevant soul food, thanks to Chef Rene Johnson's healthy and vegan soul food movement and her cookbook, From My Heart to Your Table. If you want to prepare the ultimate comfort soul food dishes for you and your family while trimming your waistline and getting healthier in the New Year, try Chef Rene's inventive vegan spin of traditional soul food and southern food favorites.
Chef Rene Johnson has been feeding A-listers from Washington and Silicon Valley to Hollywood for years with her successful Bay Area catering company, Blackberry Soul Fine Catering. Some of her notable clients have included Vice President Kamala Harris, Speaker of the House Nancy Pelosi, NY Times Bestselling author Cornel West, actor Danny Glover, music group Tony Toni Tone, top Google and YouTube execs, and California Governor Gavin Newsom to name just a few.
Her unique coffee table-style cookbook shares easy to follow recipes, along with personal stories and scrapbook-style pages, and some amazing tips on how to make healthier, plant-based versions of everyone's favorite comfort appetizers, entrees, and of course, desserts!
Chef Rene Johnson has made a name for herself by taking her grandmother's homespun southern soul food recipes and making them every bit as flavorful and culturally relevant, without many of the harmful fats added to traditional comfort foods.
Chef Rene Dishes on Some of Her Famous Clients
"Vice President Kamala Harris has a sweet tooth," says Chef Rene. "Her favorites were the desserts I made for her event, like my mini sweet potato pies, mini vegan cupcakes, and mini homemade vegan chocolate chip cookies."
"California Governor Gavin Newson throws a yearly event for Congresswoman Barbara Lee, and they loved my vegan greens, picnic potato salad, vegan mac and 'cheese,' vegan candied yams, and vegan hot water cornbread." But, says Rene, "the vegan quinoa 'meatloaf' was Gavin's favorite."
"Actor Danny Glover gravitated towards my vegan beans and rice. That was his favorite by far," says Rene.
As far as more traditionally prepared, yet healthier dishes, Rene shares, "Cornel West enjoyed the jerk turkey meatballs, mini mac and cheese bites, and he also loved my vegan red beans and rice. Then he dug into my blackberry jam cupcakes."
From My Heart to Your Table features all of the celebratory appetizers, entrees, and desserts Chef Rene Johnson is famous for, from Hollywood and Silicon Valley to Washington, DC.
A true pioneer of the healthier soul food and vegan soul food movements, Chef Rene's food is so flavorful and delicious, you won't miss the meat and dairy, or the excess fat that can damage heart health.
Some of Chef Rene's vegan soul food dishes include: fresh tomato succotash, smothered cabbage, vegan dirty rice, vegan fried okra bites, cashew "cream" sauce, vegan butter beans, mini-quinoa and spinach cakes, quinoa "meatloaf," vegan gumbo with vegan "shrimp," vegan hot water corn bread and more.
And the desserts will make your head spin: sweet potato pecan pie, peach cobbler, blackberry jam cupcakes, vegan chocolate chip cookies, and her signature "Mama Cake (yellow cake with chocolate icing)."
Please reach out to me to interview Chef Rene Johnson about her healthy vegan soul food movement, her celebrity clients, and favorite recipes from her popular cookbook, From My Heart to Your Table.
For more information, visit Amazon