Turkey Leg Hut Food Trucks Expanding to Private Events as an Additional Option with Ongoing Pandemic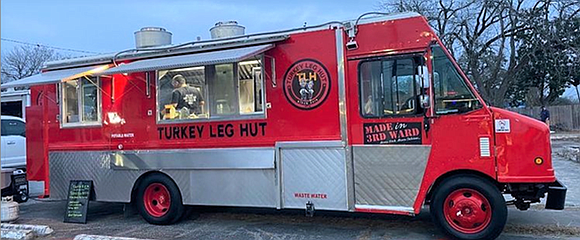 Houston's famous Turkey Leg Hut (TLH) is seeing another success story emerge with the expansion of their food trucks for private parties and gatherings amid the ongoing pandemic.
With the growing number of events moving outdoors for safety, and the opportunity to have those world-famous Stuffed Turkey Legs served at your party, TLH is seeing an upward trend in reservations for their Food Trucks as an alternative to traditional catering for private events.
Turkey Leg Hut Founders, Lynn and Nakia Price, have continually adapted their operations to offer safer dining options to meet the ebb and flow of the pandemic for the last two years. The wildly popular restaurant has closed and re-opened indoor dining, offered outdoor dining, To-Go options, curbside pick-up, delivery, and introduced new food trucks that became a staple of outdoor dining in the age of Covid.
Today, the bright, unmistakable TLH food trucks that have drawn sell-out crowds to one-day and weekend pop-up events across Texas, are quickly gaining popularity as a unique way to bring safety and acclaim to outdoor events.
"So many events have been canceled over the last couple years," said Turkey Leg Hut Founder Nakia Price. "We are hearing from more and more people looking for safer ways to get together and share a meal at cocktail parties, birthday parties, weddings and other celebrations. The food trucks are turning out to be a fun and memorable way for people to enjoy our signature dishes at their events and special occasions, outdoors, with less risk."
The TLH food trucks offer a safer, stress-free way to bring exclusive, world renown food to private events, while letting hosts enjoy more of the festivities and the meal with guests, with the luxury of watching the mess drive away! The trucks offer a full catering menu featuring Turkey Leg Hut's famous, oversized Turkey Legs, slow smoked, flavored, stuffed with Cajun Crawfish Mac & Cheese and Shrimp Alfredo, or finished with Hennessy Cognac or Ciroc Mango Habanero Glazes! Catering options also include TLH signature appetizers, potatoes, and side dishes from Gumbo to Red Beans & Rice for private gatherings of all sizes!
For more information and private event bookings for Turkey Leg Hut Food Trucks, email expressfoodtruck@theturkeyleghut.com.