National Hot Dog Month is Best with a Good Dog
Alex Jack | 7/1/2022, 11 a.m.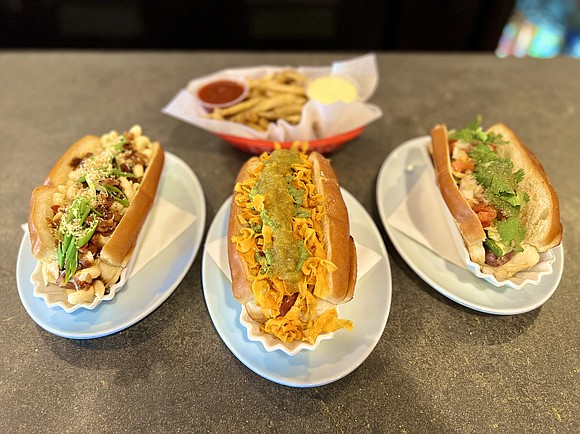 On July 4th a whopping, 150 million hot dogs are eaten every year according to the Hot Dog and Sausage Council. So that leads me to believe that to continuously eat something that much, you have to have a variety of ways to eat it. Since July is national hot dog month, let me introduce you to one of the most unique places in Houston to have a wonderful hot dog experience, Good Dog Houston!
Good Dog Houston located in the heart of the Heights has turned eating hot dogs into a thrilling experience that takes your pallet on an adventure. Their menu allows you to travel through many cuisines and cultures, but everything is locally sourced. Owners, Mali and Dani, showcase their "passion for serving exceptional quality food." They source locally or they make by hand. When was the last time you had hand-cut fries accompanied by freshly made ketchup and garlic aioli? If you answered, "NEVER", then it's time to head to Good Dog Houston.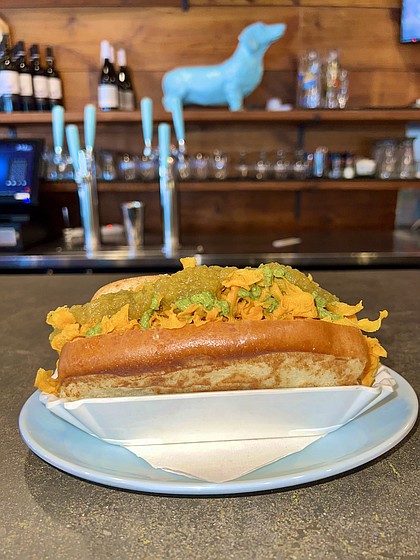 As mentioned, the Good Dog menu is unique. One of my favorite items on the menu is the Curryous Frank. For those that have been hanging with me for a while know that I love any and everything that has to do with Curry. So, when I saw the opportunity to have it as a hot dog, I wasn't passing it up. The Curryous Frank is topped with a curried scooter onion relish, cilantro chutney, sweet potato crisp, sriracha ketchup, and roasted garlic aioli that is all placed on a gourmet-quality hot dog and toasted bun. As you take a bite into the Curryous Frank, it is a combination of beautiful flavors and aromatics that is so delicious.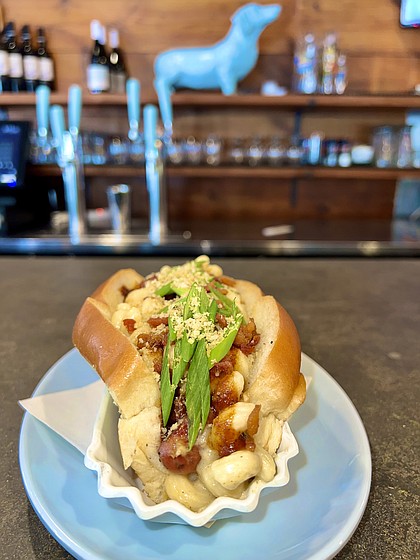 If you love something familiar with a hint of YI-HAH, I'd suggest the Rodeo Dog. The rodeo dog is topped with cheddar mac & cheese, house BBQ sauce, bacon, scallion, and parmesan breadcrumbs. For those that love the fresh flavors of amazing guacamole, the Guac-A-Dog is for you. The Guac-A-Dog is avocado, fresh jalapeño, tomato, onion, roasted garlic aioli, cilantro, cumin, and lime. What I love about these Good Dogs is that they describe Houston in a culinary form because we all know that in every corner of Houston you can find BBQ and Mexican food.
As much as I would love to break down this menu further for you, I will lead your Curryous mind to the Heights area at 903 Studemont to experience Good Dog Houston for yourself. There is a Good Dog for everyone! Good Dog Houston is one of my favorite menus to read through because it is like planning a culinary vacation. When you go the experience will be exactly what you imagined.. So, this July 4th do something adventurous and out of the box by experiencing Good Dog Houston. They will also be releasing their Waygu beef franks on July 4th. With the addition of the well-marbled Waygu beef franks added to the already delectable Good Dogs, it's going to be epic.
Visit gooddoghouston.com to see the menu and learn more about Good Dog Houston. As always, SUPPORT this local eatery and indulge!
Follow my Instagram @dinnerwithalexandria to see more of my food adventures.