HMAAC Announces Poet Laureate Emeritus – Deborah Mouton Artist Residency At The Power Center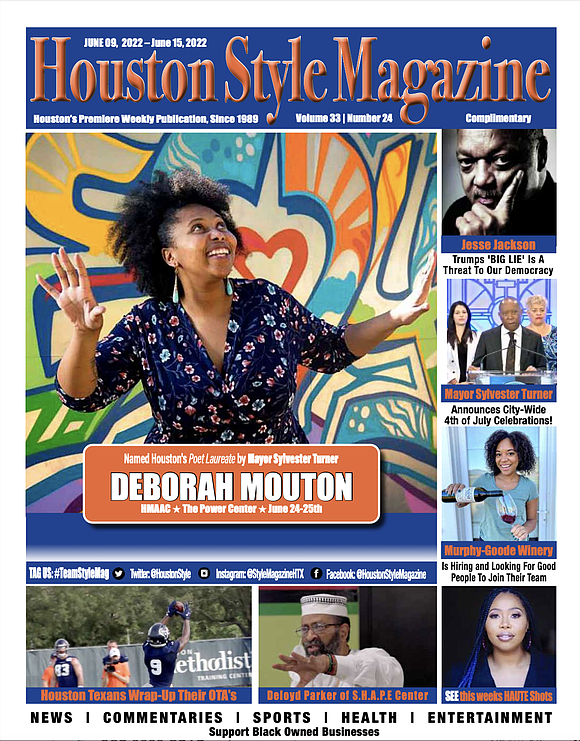 The Houston Museum of African American Culture (HMAAC) is pleased to announce the May/June HMAAC artist residency of Deborah Mouton, the internationally known writ- er, educator, activist, performer, and the first Black Poet Laureate of Houston, Texas. The residency will take place at The Power Center in Houston, Texas and will involve engagement of students from The Imani School.
During her HMAAC residency Mouton will review and edit her renowned play The World's Intermission, which premiered November 12, 2021, at Jones Hall for the Society for the Performing Arts. The play, A Deep Ink Production, focuses on the world's two- year pandemic, and how one family dealt with quarantine amidst fragile mental health conditions, rising racial tensions, and the coming Texas Spring, the perfect storm for imagining a new beginning.
According to Mouton, "I wrote the play to inspire and as events contin- ue to unfold, I wanted to revisit it. This residency allows me to do that, and I am delighted to have Imani School students involved in the project."
Imani Principal Pat Williams sees the residency as supporting the school's intentions; "At The Imani School we are intentionally igniting a fire within our children that breeds self-confidence, faith, and academic achievement, and this residency helps us do that."
For HMAAC CEO John Guess, Jr. this residency is about exploring where we have been and our strengths as we move forward. "As we continue to adjust to our new pandemic normal," he indicated, "this play reminds us of our resilience and the human gift of adaptability,"
HMAAC Board President Cindy Miles added, "We are so delighted to bring the talent of Deborah Mouton into a community of color, and we could not have a better partner in this endeavor than The Power Center and the Imani School and its Principal Pat Williams."
The culmination of the residency will be performances of The World's Intermission at The Power Center June 24 and 25. Mouton's residency is sponsored by the Houston Endowment, HEB, Craig McGowan and the Board of Directors of HMAAC.
ABOUT DEBORAH MOUTON
Deborah D.E.E.P. Mouton is an internationally known writer, educator, activist, performer, and the first Black Poet Laureate of Houston, Texas. Formerly ranked the #2 Best Female Performance Poet in the World (PSI), Her work has appeared in Houston Noir by Akashic Press (2019), Black Girl Magic by Haymarket Books (2019), the Texas Observer, and Fjords Journal, and on such platforms as NPR, BBC, ABC, Apple News, Blavity, Upworthy, and across the TedX circuit. Honored by Houston Business Journal as a part of their 2021 40 Under 40 class, She has served as a contributing writer to Texas Monthly, Glamour Magazine, and ESPN's The Undefeated. Her most recent stage play, The World's Intermission, debuted at Jones Hall in Houston, TX in Fall 2021. Her second book, Black Chameleon is set to release in 2023 by Henry Holt & Co. A storybook opera, entitled Lula, the Mighty Warrior which reinterprets one of the stories from Black Chameleon is set to debut in Spring 2022 with the Houston Grand Opera.