The Conrad O. Johnson Music and Fine Arts Foundation Conducts A Summer Music Institute June 20th through June 24th Music
The Other "M" in S.T.E.M. The Correlation between Science, Technology, Engineering, Math, and Music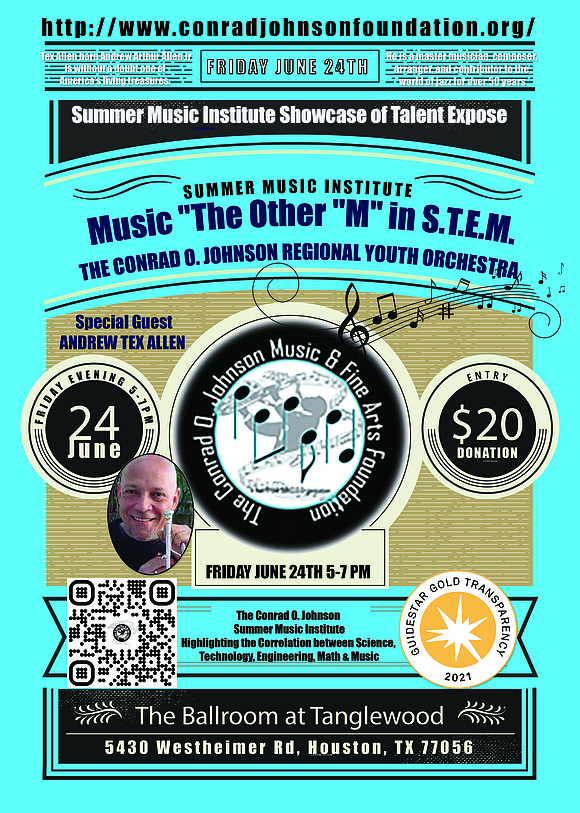 A one-week Summer Music Institute focusing on the art of Music and Academic Excellence, culminating with a Showcase of Talent Expose. The fee of $300.00 per student, includes Tuition, Continental Breakfast, Lunch, Interactive workshops, Class Materials, and field trips. For the Showcase of Talent only, a donation of $20.00 is requested. Proceeds from the event will benefit The Conrad O. Johnson Education and Outreach program.
The Conrad O. Johnson Music and Fine Arts Foundation coordinated by Claude Robinson and OluToyin Onayemi, along with a host of musical and community leaders will conduct a series of fun, informative, educational, interactive, and musical workshops for Houston area students, ages eleven thru eighteen to demonstrate the correlation between music, academic excellence and obtaining life goals.
Monday, June 20th thru Friday, June 24th, 10:00 a.m.– 3:00 p.m.
The Ballroom at Tanglewood (ex-Hess Club Galleria). 5430 Westheimer Ct, Houston, TX 77056
The purpose of the Institute is to enrich, enhance, and expose Houston area students to a holistic approach of learning to include, but not limited to creative approaches to excelling in science, technology and math, areas of public speaking, performance and attire etiquette, the business of music, audio, and visual productions and behind the scenes of the music world. All children must have a way to express themselves and music is one of the most productive ways to do it. We are providing an opportunity for children to be mentored and nurtured to express themselves through the art of music and to use their discipline in music to increase their academic skills.
The Regional Youth Orchestra is a subsidiary of The Conrad O. Johnson Music and Fine Arts Foundation (COJMFAF). The orchestra is comprised of students, ages eleven through eighteen from the Greater Houston area, many of whom come from underserved communities. COJMFAF, as part of its primary mission, formed this orchestra to provide a rich and extraordinary experience for students who otherwise might not be able to explore music on their own.