Houston My Salon Suite Member Wins Free Trip to Premiere Orlando
2022 #Suitesweepstakes Contest Winner Earns Ticket to Largest Beauty Trade Show in the U.S.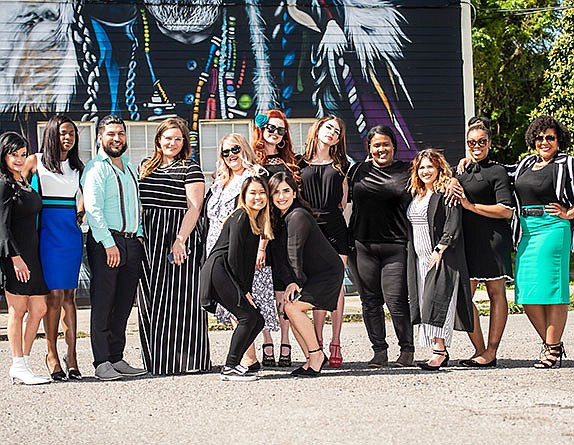 MY SALON Suite, a co-working style space where salon professionals provide beauty services to their clients in private, fully equipped, custom suites, today announced Houston Stylist and MY SALON Suite Member Jennifer Slim as the winner of its 2022 #Suitesweepstakes contest.
The contest, which was announced this spring, invited all of MY SALON Suite's 6,000 beauty professional members to submit a video or reel highlighting their suite in a fun and unique way. Slim's video was selected from more than 800 submissions for the grand prize – complimentary airfare and lodging for two to attend Premiere Orlando, the largest beauty trade show in the country. Slim and her assistant, Paulina Hoang also had the unique opportunity to connect with top manufacturers and distributors across the beauty industry at the three-day event, which took place June 4-6.
"We were beyond thrilled to attend this year's Premiere Orlando - THE trade show in the beauty industry and the best place to learn from and network with the top experts in the business," said Jennifer Slim, owner of The Hues Studio in Houston. "I'm so grateful to MY SALON Suite for the opportunity to learn new trends and techniques, expand my professional network and further develop my expertise as a stylist."
To learn more about Jennifer Slim, visit her on Instagram @thejenniferslim.
"MY SALON Suite is home to thousands of fun, talented and innovative stylists, and this contest was a great opportunity to showcase their creativity and passion," said Stacy Eley, brand president of Suite Management Franchising, franchisor of MY SALON Suite. "We were thrilled to recognize Jennifer and Paulina with a well-deserved trip to Premiere Orlando and all that it has to offer for today's stylists."
There are more than 230 franchised MY SALON Suite locations across the U.S. and Canada with more than 6,000 beauty professional members, collectively called the Suite Elite.
About MY SALON Suite
MY SALON Suite is a nationwide franchise of turnkey beauty salon suite studios that allows independent salon professionals to provide beauty services to their own respective clients. The co-working style space is the latest concept in the beauty services industry bringing together a collection of independent beauty professionals in one luxurious location. Founded in 2010, MY SALON Suite has since expanded to more than 230 franchised locations across the U.S. and Canada.
MY SALON Suite has been recognized as a leading franchise opportunity by some of the most prestigious business lists, including the Entrepreneur Franchise 500 and the Inc. 5000. With industry-leading knowledge, operational processes and support services, MY SALON Suite helps franchise owners successfully build, open and manage upscale private salon suite facilities for highly qualified, established beauty service professionals, who are ready to make an investment in themselves and their professional success by running their own salon business.
For more information about MY SALON Suite, please visit: https://www.mysalonsuite.com/.