KTSU turns 50!
Backyard Party celebrates half century of broadcasting excellence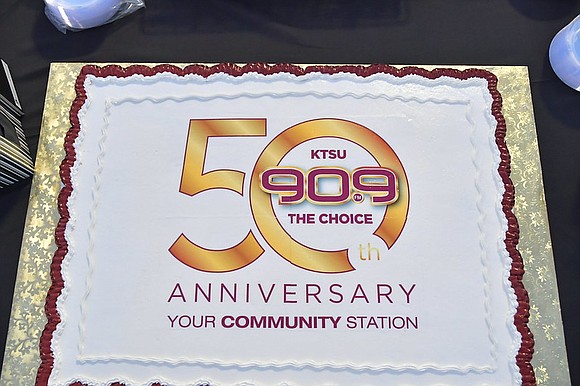 More than 1,000 people came to support TSU's KTSU 90.9FM as it celebrated 50 years of on-air excellence with an on-campus Backyard Party on Friday, June 24.
In addition to a 50th anniversary birthday cake (shown above, with current and past KTSU staff surrounding it, singing "Happy Birthday"), the crowd was treated to an all-star lineup of musicians, many of whom got their start with KTSU.
Performers included Houston artists James Boogaloo Bolden and Friends, Mary Griffin (pictured above), Spud Howard, Trudy Lynn, Melanie Covington, and Werner Richmond, as well as DJ performances by Chilly Bill Smith, Paul "PD" Davis, and Michelle McKnight. Dorian Paul, formerly with the Gap Band, performed his new hit single "9 to 5," as well.
The TSU Board of Regents was issued a license by the Federal Communications Commission in 1972. KTSU first hit the air the following year with just 10 watts of power, becoming the first African-American FM station on Houston's airwaves. The first song ever played on KTSU was "The Funky Worm" by the Ohio Players. To date, KTSU remains a source of local music of all genres, and a destination for Jazz, Blues, Gospel, Rhythm and Blues, and more.
"KTSU has been a beacon in the Houston community since its inception," said KTSU general manager Ernest Walker. "From the beginning, the station has been committed to the greater good of Houston. Not only is KTSU a source of entertainment, but it is a major component of outreach as a source of news and public affairs information that ensures our listeners know what's happening in the community around them. We are thankful for the members who support us, and for every listener who makes KTSU a part of their daily routine."
KTSU is also a training platform for students enrolled in TSU's School of Communication. In 2019, the station launched KTSU2 "The Voice," a student-run streaming radio platform. KTSU expanded further with the launch of The Vibe in 2020. The Vibe is the digital and innovative Urban Alternative station, powered by KTSU, that appeals to Millennials and Generation Z, offering the latest in Hip Hop, R&B, and Neo-Soul on the FM dial and through 24-hour streaming.
"KTSU continues to evolve to meet the growing needs of an ever-expanding audience," said Melinda Spaulding, TSU's Vice President for Communications and Advancement. "As we celebrate 50 years of being a leading public radio station and a fixture in our community, we look forward to all KTSU will accomplish and all the students who will launch into successful broadcast careers over the next 50 years."
Anniversary events began in June 2021 and will continue throughout the upcoming year.