Announcing Ruth Foundation for the Arts
Inspired by the legacy of the Late Ruth DeYoung Kohler II, Foundation Launches With an Initial $1.25 Million in Grants to Cultural Organizations
Today, the Ruth Foundation for the Arts (Ruth Arts) is pleased to mark its debut in the landscape of arts philanthropy with the announcement of its inaugural grantmaking cycle. The new foundation is supported by a bequest from the late Ruth DeYoung Kohler II, and expects to award grants totaling more than $17 million annually.
The first class of Ruth Arts grantees — an initial round of funding that precedes the regular giving cycles that the organization will embark upon later this year — includes 78 nonprofit arts organizations that have been awarded a total of $1.25 million in funding. These individual grants range from $10,000 to $50,000 each.
The Foundation is led by Executive Director Karen Patterson, who was most recently Director of Exhibitions at The Fabric Workshop and Museum and Senior Curator at The John Michael Kohler Center for the Arts, alongside Program Director Kim Nguyen, former Curator and Head of Programs at CCA Wattis Institute. Under their leadership, the grantmaker will seek to explore new possibilities in arts philanthropy that safeguard creativity and take a people-centric approach.
"I am honored to continue Ruth's exceptional legacy in such an impactful way," said Patterson. "She has shown us that a thriving art community requires support for the entire ecosystem: from exhibition spaces, to festivals, to archives, to art environments, to residencies, and to school programs. We are truly a multidimensional field. We rely on one another. And none of these things would be possible without artists."
Built from the inspiration and bequest of Ruth DeYoung Kohler II, a lifelong advocate for the midwest's artistic community, Ruth Arts embraces the ethos of the region while operating at a national scale. The organizations funded in this initial round of grantmaking come from 29 states and range widely in size. In keeping with the spirit of Ruth Arts, which places a particular emphasis on the support of creativity in all its forms, with a focus on the unconventional and exciting, grantees were not confined to particular fields or genres of work, and span a broad spectrum of culture-making.
Ruth Arts launches with a unique artist-driven nomination process for this initial round of grants, which was guided by a group of nearly 50 artists. These artists, drawn from across the country and at all stages of their careers, were asked to propose organizations they felt had deeply influenced their own engagement with art, presented visionary community programming, and connected deeply with artists' processes. The grantees were then drawn from these nominations.
The artists who participated in the process include: Sarah Braman, Nikesha Breeze, Mel Chin, Andrea Chung, Jennifer Ling Datchuk, Nicholas Galanin, Kati Gegenheimer, Michelle Grabner, Trenton Doyle Hancock, Heather Hart, Dyani White Hawk, Kahlil Robert Irving, Roberto Lugo, Guadalupe Maravilla, Woody De Othello, Ebony G. Patterson, Gala Porras-Kim, Tammie Rubin, Rose B. Simpson, Jaune Quick-to-See Smith, Lisa Stone, Alison Elizabeth Taylor, Mark Thomas Gibson, Nari Ward, Didier William, Saya Woolfalk, and Samira Yamin. Others chose to remain anonymous.
While grants will remain on an invitation-only basis for a twice-annual cycle as the foundation grows and develops, Ruth Arts will continue to work with artists to guide and inform its programming, and will host their artist nominating processes on a regular basis.
These leaders and visionaries across the arts, alongside Ruth Arts' Board of Trustees—composed of some of Kohler's beloved friends and advisors—serve to navigate Ruth Arts through the evolving arts philanthropy landscape while keeping the organization anchored in its values and origins.
"I was really excited when Karen asked me to nominate an organization," said artist Rose B. Simpson. "I felt that the power dynamics around institutions could change, that support could come from real experiences and community dedication rather than big talk and hierarchies."
In addition to its grantmaking, Ruth Arts also plans to pilot several important partnerships in the coming years, including establishing an artist advisory committee, a Visiting Artists program for art schools, a fellowship program for artists, and research grants for cultural workers.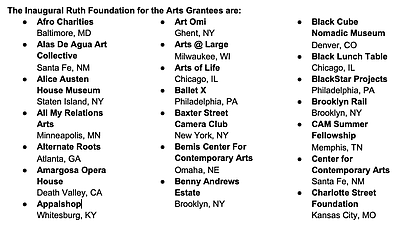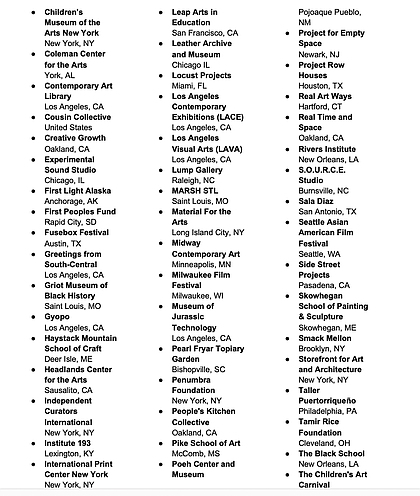 The Foundation plans to continue providing support for organizations in the arts with invitation-based awards in two cycles each year. The next cycles of Ruth Arts' grants will be announced later this year, and will total approximately $17 million, reflecting the expected annual valuation of grants moving forward.