Poke-A-Dot Organizer Puts a Customizable Spin on Stashing, Storing Items
Say goodbye to crushed or cluttered products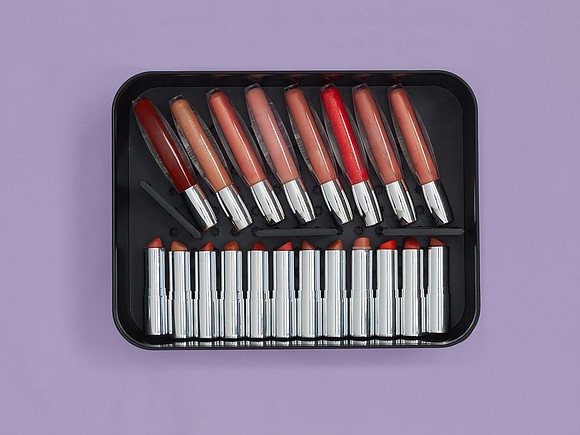 Finding a quality organizer for cosmetics, craft and school supplies, junk drawer items and other objects that seem to end up all over the place is like trying to find a needle in a haystack. The slots that come embedded in the trays often aren't long or wide enough to hold your products or there's just not enough slots to hold everything you want to store in one place. The patented Poke-A-Dot Organizer is an innovative, completely customizable organizational tool to help hold and secure items.
Poke-A-Dot Organizer is a rigid box that has rows of holes along the bottom that plastic dividers can be placed into either horizontally, vertically, or diagonally to secure items. The modular design of the dividers lets the user configure their ideal layout for their items. Poke-A-Dot Organizer comes with eight dividers, but additional dividers are available to purchase.
The flat shape of the organizer makes it easy to see and reach the items in the box and it is designed to move seamlessly between at-home and on-the-go use. Poke-A-Dot Organizer fits snugly in most vanity drawers, and when it's time to travel, just pop on the tight lid that comes with it and pack the organizer without worry of breakage or items getting jumbled up during travel.
Poke-A-Dot Organizer was created by founder Jane Lee after continuously running into the same problem while traveling. "I travel significantly with my job and every time I opened my cosmetic bag, I would find my powders, eye shadow, blush, and liquid foundation broken, and colors shattered all over my bag, said Lee. "This caused a wet, hot mess and soaked up a ton of my 'getting ready' time. It was then that I began to wonder if it was too much to ask for a clean container to hold my makeup? Poke-A-Dot Organizer was then born! What started out as a cosmetic organizer has transformed into an organizer for hobbiest, kids and as a utility organizer for junk drawers."
Poke-A-Dot Organizer is available in clear or black plastic and retails for $21.95 and a pack of four dividers retails for $4.00.
For more information and to purchase Poke-A-Dot Organizer visit: www.pokeadotorganizer.com.