Aspiring Small Business Owners Compete for More than $30,000 in Funding during 10th Annual Liftoff Houston's Pitch Day
11/4/2022, 4:01 p.m.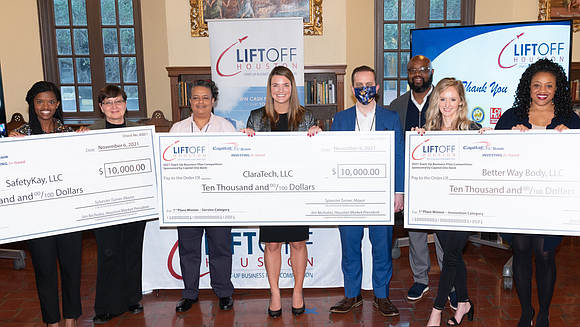 On November 5, nine promising entrepreneurs will compete for more than $30,000 in funding during Pitch Day of the City of Houston's Liftoff Houston Startup Business Plan Competition. The event celebrates its 10th anniversary this year.
Finalists, selected from more than 160 applicants, will compete in three categories: Service, Product, and Innovation (see the addendum for their bio/business idea).

The public is invited to attend in person or view the competition live and vote for their Fan Favorites by watching the event on HTV Houston Television, or by livestream at @liftoffhouston on Facebook. Finalists with the most votes will receive additional cash prizes.
Mayor Sylvester Turner will announce the winners at 1:25 p.m., following the morning of business pitches, judged by CapitalOne and other volunteers.
Saturday, November 5, 2022 from 10 a.m. – 1:30 p.m.
Key Times:   10:25 a.m. - pitch competition starts
            12:20 p.m. – pitch competition ends, and judging begins
            12:55 p.m. – awards ceremony starts - remarks by key program partners
            1:25 p.m. – Mayor Turner announces winners
            1:35 p.m. – closing, red carpet photos
Julia Ideson Building, 550 McKinney, Houston TX 77002
The program is especially significant as data collected from the 2021 competition shows Liftoff Houston made an impact on populations that have been historically marginalized. Of all participants, 96% identified as people of color, 70% were female, 56% had no college degree, and 41% made below $30,000. Most of this year's finalists are black and brown.
Finalist profiles
Service:
• Charmeyce Buck and Frerika Varlack: Ignite Diagnostic Solutions LLC, a certified WBE, MBE, HUB, and WOSB professional analytical laboratory service committed to delivering accurate and timely results to its customers while meeting regulatory guidelines and standards.
• Kimberly Evans: The Coterie Wine Bar & Social Club, which provides a valued experience to historically underrepresented populations.
• Dr. Natasha Roberts: ActIVate Drip Spa, which provides medical-grade IV Drip formulas that work to eliminate unwanted toxins to permit the body to absorb 100% of the nutrients to rehydrate, refuel, and recover on a cellular level.
Product:
• Suzanne Knobel: Bennie's Old-Fashioned Ketchup, a producer of artisanal, small-batch ketchup made with fresh tomatoes and uncomplicated ingredients customers know and can pronounce – no weird stuff!
• Hannah Le: RE.STATEMENT, where bold designers and sustainable consumers transform old fashion into wearable art. Engineering the circular economy of fashion, small businesses and artisans sell original, upcycled clothing that become new clothes made from used or unwanted material for buyers who recognize art when they see it.
• Stefanie Jones: Yvonne Beauty LLC, a global beauty retailer offering a virtual personal shopping experience for Black women. Through the virtual consultation, clients are guided through the Yvonne Beauty website showing them a personalized, curated selection of products based on their needs and goals.
Innovation:
• Aditya Aggarwal: Maritime XR, which intends to disrupt conventional training modalities for the maritime industry by supplementing maritime training with advanced Virtual Reality (VR) simulations.
• Sean Carroll: Buffalo Seaweed, the first algae farm in Texas. This company aims to expand access to green technology raw material locally while rewilding the environment in Galveston Bay.
• Terri Nguyen: SHI (Student-Homeless Impact) Educational Properties LLC, a niche, start-up real estate development company committed to building affordable modular homes that are efficient in size and construction cost to serve the purpose of providing affordable housing solutions for the communities that need it most.