Ezra Coffee, a Black-owned Specialty Coffee Company Launches its High-quality, Ethically Sourced Coffee Blends That Tell the Story of America's History with Each Sip.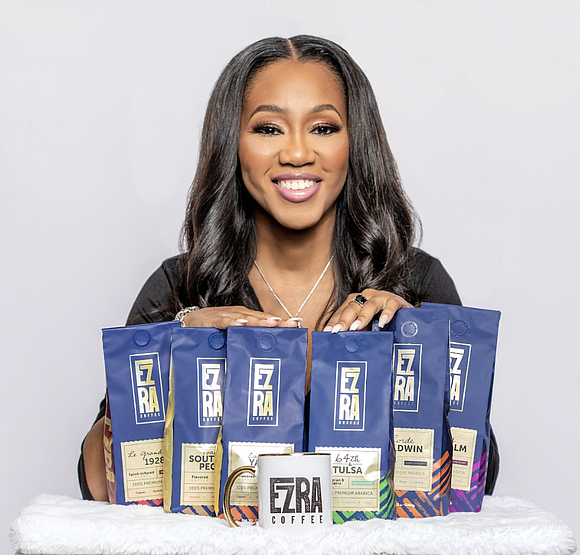 Founded in 2021 by Jessica Taylor, a passionate storyteller, former educator and policy advocate and a long-time coffee aficionado, the brand celebrates inclusion, supports education and community and honors Black history and American history through coffee. Ezra Coffee's blends tell powerful stories of Black culture—tales of opportunity, freedom and perseverance in American history.
Each unique blend is inspired by African American and BIPCO histories, figures, and cultures. Some of Ezra's best-selling blends include:
64th & Tulsa, a medium dark roast that honors the significance of Black Wall Street in the Greenwood District of Tulsa and the Presidential signing of the Civil Rights Act in 1964.
Lorde Baldwin, a bold, powerful Kenyan AA-based blend, that honors literary icons Audre Lorde and James Baldwin, writers who unapologetically fought against social inequality
Candied Yams, made 'for the culture' this seasonal blend of light roast coffee infuses the sweet taste of the classic southern dish. Prepare a creamy cup of comfort, love, and southern tradition.
Le Grand Duc 1928, This medium roast is a decadent, cognac infused blend that is perfect for the sophisticated palate. Its name pays homage to Eugene Bullard, the first black combat pilot and owner of Le Grand Duc, a famous Parisian nightclub.
Toasted Southern Pecan, This rich light roast with a buttery nut taste, and a forestry aroma. The pecan was first domesticated in St. James Parish in Louisiana around 1846 by Antoine, an enslaved horticulturist.
"My goal with Ezra Coffee Co. is to always highlight the stories, legacies and experiences of African-Americans who have contributed to our collective American history," explains Taylor. "With each cup of bold and flavorful coffee, Ezra [Coffee] informs, empowers and inspires coffee connoisseurs and novices everywhere."
What makes Ezra Coffee blends so good? It starts with the company's core values.
Ezra Coffee only purchases coffee from suppliers committed to ensuring high-quality coffee and providing fair, respectable compensation to their workers. The company's unwavering support of sustainability, fair labor practices, and fellowship is felt in every sip of its rich, bold coffee blends.
Not only do the blends taste good, but coffee lovers know they're supporting a company that cares about its impact on the community it serves.
Ezra Coffee also created the company's coffee blends with lactose-intolerant consumers in mind. With approximately 68% of the population lactose intolerant, it's important to Ezra Coffee to create smooth, rich blends that everyone can enjoy without needing to use milk-based creamers.
Ezra Coffee Co.is changing lives one bean at a time.
According to a March 2022 article in "The Hechinger Report," overdue tuition and fees can make it difficult for students to return to school. Ezra Coffee wants to ease this kind of student debt. During the summer of 2022, Ezra Coffee announced its inaugural scholarship session for its Ezra Scholars' Scholarship, a program that aims to help students pay outstanding balances of $1,000 or less. A portion of each Ezra Coffee sale funds the scholarship program.
Ezra Coffee is now available at an H.E.B store near you.
In addition to being available for purchase online at https://ezracoffeeco.com, coffee lovers can find Ezra Coffee blends in their distinctive packaging decorated with Ghanaian Andrinka symbols and inspiring inscriptions in over 30+ H.E.B stores in the greater Dallas area.
Ezra Coffee is a love letter for everyone who enjoys coffee and wants to honor America's collective history one sip at a time.