Hispanic Heritage Month Chef Profile: Chef Jeffrey Taylor is Serving Puerto Rican and Soul Food Flavors with Japanese Technique
Alex Jack | 10/5/2022, 4:18 p.m.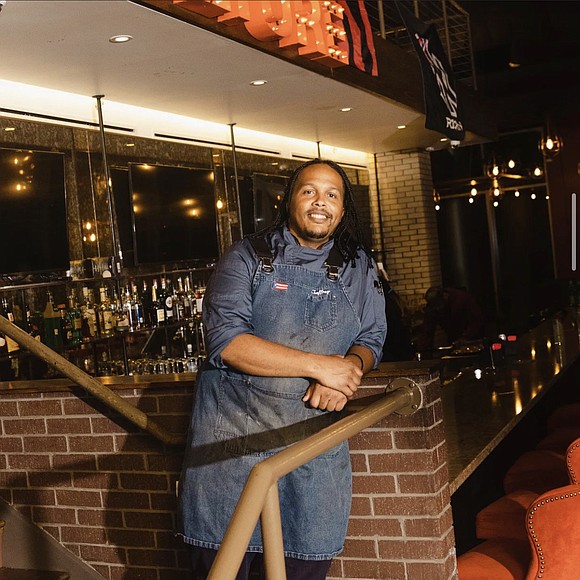 Grilled Shrimp, a beautiful corn puree, and pickled blueberries were one of the lively dishes presented by New York native Chef Jeffrey Taylor for his "Celebration of Life" menu at Black Chef Table in August. The menu brought a fusion of his heritage and professional training and gave some history into his own life experiences. Being a chef was something he always knew he would do. That determination has kept his culinary journey evolving and allowed him to stand out.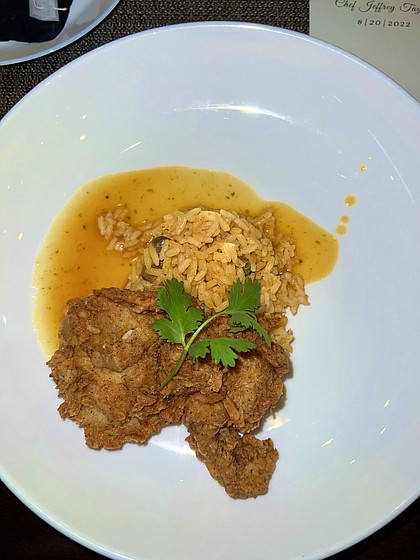 Taylor started his culinary career at the Culinary Academy of Long Island, where he trained as a pastry chef. As he began his career in culinary, he started out as a pastry chef. He later found himself on the savory side of the kitchen where his hands were most needed, which landed him at Momosan Ramen and Sake. Momosan Ramen and Sake is Iron Chef Masaharu Morimoto's ramen-focused restaurant in New York. Moving to Houston in 2019, his skills in Japanese cuisine ultimately landed him at one of Houston's most sought-after Japanese-inspired restaurants, Uchi. This has allowed him to use Japanese techniques on familiar foods he knows and loves.
Being a chef is not an easy gig and requires balance; Taylor finds that balance in fishing. Growing up, it was something that he did with his family, and it now keeps him connected to his roots. Taylor was never more than fifteen minutes from the water on Long Island. Now living in Houston, he prefers deep sea fishing trips, especially during red snapper season. For his Black Chef Table experience in April, "NuYeer Rican," he served some of his freshly caught fish on the menu.

Black Chef Table, an innovative dining concept that provides a national platform for talented Black chefs, has allowed Chef Taylor to showcase his skills. His "NuYeer Rican" menu in April and "Celebration of Life," a tribute to his late mother, in August, brought a biographical element to the plate. His Fried Chicken with Arroz and the Beef Tartar were two of the many crowd favorites that he has presented.
Passion is what drives Chef Taylor to keep going. In the future, Chef Taylor would like to be a Chef du Cuisine. This position will allow for even more of his creativity to flow onto the menu while continuing his path in leadership. From there, he would like to have his own venture to showcase even more of his skills.
"When it comes to this industry, always put out the best food," humbly said Chef Jeffrey Taylor. "It's about being a chef first,"
Chef Taylor is one of Houston's best-kept culinary secrets bringing discipline, talent, and excellent food. He wants to continue bringing Puerto Rican, Soul Food, and Asian fusion dishes to the pallets of as many people as possible. His style is outside of the box and unexpected. He isn't your traditional chef regarding his culinary skills, but he never steers far from his roots. Check out his current menu item at Uchi, Pork Jowl with corn puree, pickled peach and tempura corn. Be on the lookout for what's next with Chef Jeffrey Taylor. Follow him on Instagram @the_real_cheffrey
Alexandria Jack writes about food and culinary focused events for Houston Style Magazine. Follow her on Instagram (@dinnerwithalexandria) or Twitter (@foodwriteralex). Send her news tips to editorial@stylemagazine.com.