MFAH & HCC Present Fashion Fusion on November 3
Fashion Competition inspired by the Fashion of Tomorrow
Modern art meets contemporary couture in Fashion Fusion, the seventh edition of the annual fashion competition inspired by contemporary works in the Museum of Fine Arts, Houston. Open to aspiring designers in the award-winning Fashion Design program at Houston Community College, Fashion Fusion challenges students to create original garments as responses to examples on display in the museum's collection.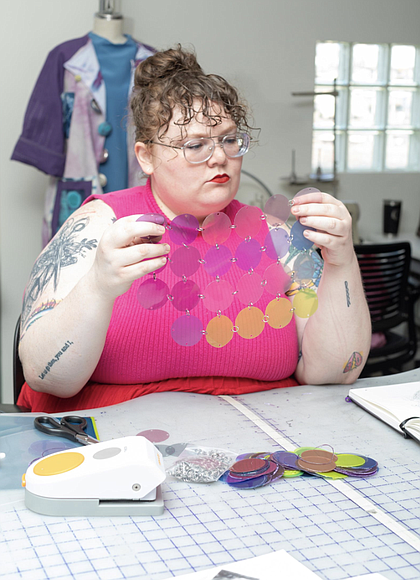 This year, Fashion Fusion's designers will present works inspired by modern and contemporary art in the Nancy and Rich Kinder Building. These designs fall into four categories – light and reflection, abstraction and expressionism, architecture and geometry, and reimagined and sustainable.
Presented by the MFAH and HCC Central, Fashion Fusion culminates in a professional fashion show and awards presentation on Thursday, November 3, in the Museum's Cullinan Hall. Twenty garments created by HCC's emerging designers will be featured. A distinguished panel of judges—Sydney Dao, Kim Lai, Sarah Horne, John Dunwoody—will assess the students' work based on theme, construction, and overall presentation, and announce the first and second place winners in each of the four categories, and the Audience Choice winner. Winning garments will be displayed at the Museum of Fine Arts Houston and at The Galleria.
The Museum's Happy Hour Thursday moves to Cullinan Hall in celebration of Fashion Fusion, with extended hours from 6 to 9 p.m. Before and after the fashion show, visitors can enjoy cocktails.
All events will occur on 7 p.m. on Thursday, November 3, at The Museum of Fine Arts, Houston, Caroline Wiess Law Building, 1001 Bissonnet Street.
General admission to Fashion Fusion is free. VIP ticket are available for $25.
The Galleria is the Retail Partner for Fashion Fusion 2022.
Models provided by the Shell Family / Neal Hamil Agency and Page Parkes Houston. Makeup provided by Hues by Heather. Hair by Volume Social Club. Decor provided by Aztec Events & Tents.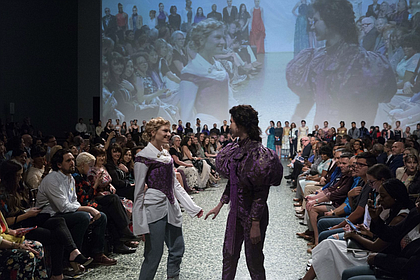 For more information, visit mfah.org