Olympians Visit Houston for the 2023 Make-a-Splash Tour Presented By Phillips 66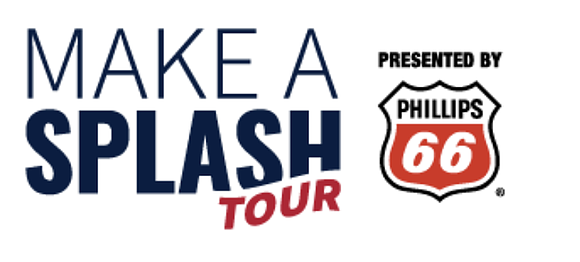 Olympians Nathan Adrian, Elizabeth Beisel, Rowdy Gaines, Cullen Jones and Chase Kalisz will participate in a community swimming activity and visits to local schools during the 2023 Make-a-Splash Tour stop in Houston.
Confirmed athletes that are coming: Nathan Adrian – Eight-time Olympic medalist (five gold); Elizabeth Beisel – Two-time Olympic medalist (silver and bronze); Rowdy Gaines – Three-time Olympic gold medalist; Cullen Jones – Four-time Olympic medalist (two gold and two silver); Chase Kalisz – Two-time Olympic medalist (gold and silver) , and USA Swimming Foundation representatives. All are coming Wednesday, May 3rd to Northside High School visit / pool activity in the afternoon and on Thursday, May 4th to Atherton Elementary School at 8am, McReynolds Middle School at 10am, andYates High School at 2pm.
About USA Swimming
As the National Governing Body for the sport of swimming in the United States, USA Swimming is a 400,000-member service organization that promotes the culture of swimming by creating opportunities for swimmers and coaches of all backgrounds to participate and advance in the sport through clubs, events, and education. Our membership is comprised of swimmers from the age group level to the Olympic Team, as well as coaches and volunteers. USA Swimming is responsible for selecting and training teams for international competition, including the Olympic Games, and strives to serve the sport through its core objectives: build the base; promote the sport; achieve competitive success. For more information, visit www.usaswimming.org.
About the USA Swimming Foundation

The USA Swimming Foundation serves as the philanthropic arm of USA Swimming. Established in 2004, the Foundation works to strengthen the sport by Saving Lives, Building Champions and Impacting Communities. Whether equipping children and adults with the life-saving skill of learn-to-swim, providing financial support to our heroes on the U.S. National Team, or broadening community access to the sport, the USA Swimming Foundation aims to provide the rewarding experience of swimming to all, regardless of their ability to pay. For more information, visit www.usaswimming.org/foundation.
About Phillips 66
Phillips 66 is a diversified energy manufacturing and logistics company. With a portfolio of Midstream, Chemicals, Refining, and Marketing and Specialties businesses, the company processes, transports, stores and markets fuels and products globally. Headquartered in Houston, the company has 14,000 employees committed to safety and operating excellence. Phillips 66 had $56 billion of assets as of Dec. 31, 2021. For more information, visit www.phillips66.com or follow us on Twitter @Phillips66Co.