Brittney Griner says she'll 'never go overseas again' to play unless it's for the Olympics after being detained in Russia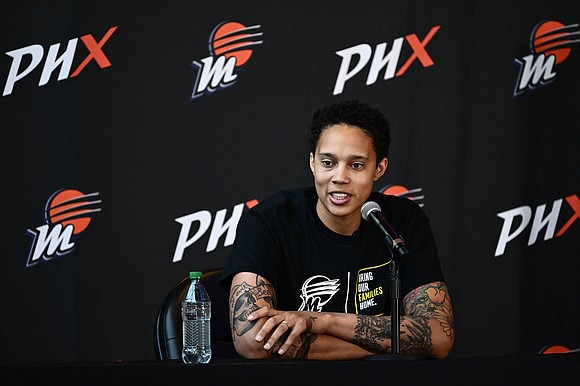 Originally Published: 27 APR 23 12:39 ET
Updated: 27 APR 23 17:27 ET
By Ben Morse and Jill Martin, CNN
(CNN) -- Brittney Griner said during a press conference on Thursday that she'll "never go overseas again" to play basketball unless it's for the Olympics after being detained in Russia.
The two-time Olympic gold-medalist spent nearly 300 days in Russian custody following her detention in February 2022 and was sentenced to nine years in prison under drug-smuggling charges after authorities in the country found cannabis oil in her luggage.
She was released in December last year in a prisoner exchange with Russia.
Griner had for years played on a Russian women's basketball team during the WNBA off-season and was detained in a Moscow airport as she traveled back to the US.
The 32-year-old said many women's players go overseas for the pay and that she wouldn't criticize anyone for doing that, though Griner hopes the WNBA will continue to grow and that there will be change.
"If I make that (US) team, that would be the only time I'll leave the US soil and that's just to represent the USA," Griner said. "The whole reason a lot of us go over is the pay gap.
"A lot of us go over there to make an income, to support out families, to support ourselves. So I don't knock any player that wants to go overseas and want to make a little bit extra money.
"But I'm hoping that our league continues to grow and with as many people in here now covering this I hope you continue to cover our league and bring exposure to us."
Griner began her press conference by thanking the media for its coverage while she was detained in Russia and for the exposure it provided to help her get back to the US.
The Phoenix Mercury star was moved to tears by the opening question, but quickly composed herself.
"I'm not stranger to hard times," Griner told reporters with a crack in her voice. "Just digging deep, honestly.
"You're going to be faced with adversities throughout your life, this was a pretty big one, but I just kind of relied on my hard work, getting through it.
"I know this sounds so small but dying in practice and just hard workouts, you find a way to just grind it out, just put your head down and keep going and keep moving forward.
"You can never stand still and that was my thing; just never be still, never get too focused on the now and looking forward to what's to come."
Griner said that during her detention there was sometimes a little bit of a delay in getting news but that she was aware of what was going on.
The knowledge that people were fighting for her "definitely made me a little bit more comfortable" and gave Griner "hope." She urged those who remain wrongfully detained to "stay strong."
Griner said that she had no doubt about whether or not she would return to the WNBA this season. She signed a one year deal with the Mercury in February.
"I believe in me," Griner said. "I believe in what I can do. I know if I put my mind to it I can achieve any goal.
"I'm not trying to sound big-headed, but I bet on me. I have all the resources here to help me get to that point where I can play, and it was no question to be back in the WNBA, back in Phoenix playing."
The Mercury play their first preseason game on May 9 with the WNBA season beginning on May 19.
Phoenix play their first game of the regular season against the Los Angeles Sparks on May 19 at Crypto.com Arena in Los Angeles.
Griner explained that during the times where she had almost lost hope all together, pictures of her family helped get her through.
"Just being able to see their faces, that did it for me. ... You know what you're waiting on," Griner said. "You're waiting to be back with your family."
Griner said the mental health assistance she had received before she was detained in Russia "helped a lot."
"I've always promoted speaking to a counselor, seeking therapy, any tool that will help you get to a good center place. And I'm still doing that as of right now.
"That'll never change. So much goes on in this world, we exposed to so much on social media that is just a lot."
Griner was asked if she felt a burden for coming home before others who have been wrongfully detained.
"If I could have went and got them out or any of that, of course, I would have," Griner said.
"It hurts, because no one should be in those conditions," she added. "Hands down, no one should be in any of the conditions I went though or they're going through."
Griner last played with the Mercury in 2021, helping the team to the WNBA Finals, which they lost to the Chicago Sky.
Before that, the seven-time All-Star had played all nine seasons with the franchise since being selected with the No. 1 overall pick in the 2013 WNBA Draft.