Houston native Jenn Rossi makes a go of it selling Texas wines through The Cause Urban Winery, winning awards along the way
Proceeds from sales of the four wines go to four Houston charities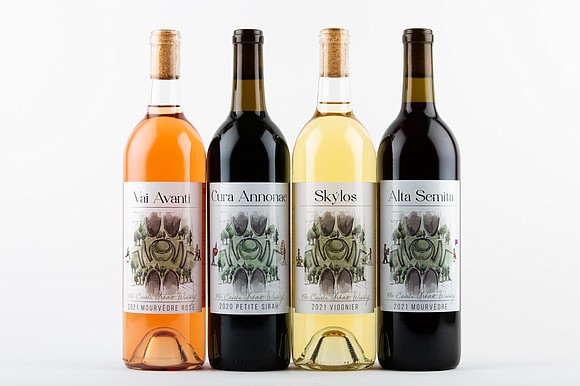 A passion for wine and winemaking, an entrepreneurial spirit and a heart for charity motivated Houston native Jennifer (Jenn) Rossi to start The Cause Urban Winery (The Cause) in 2019, which is now offering four Texas wines and winning major awards. Rossi's hard work and dedication have paid off, with 2023 proving to be an award-winning year, notching silver and bronze medals in prestigious competitions.
The impressive awards list includes:
-2021 Texas Hill Country single-vineyard Viognier, "Skýlos"
Silver Medal at the 2023 Rodeo Uncorked!® International Wine Competition
Silver Medal at the 2023 San Francisco Chronicle Wine Competition
-2021 Texas High Plains Rosé of Mourvèdre, "Vai Avanti"
Bronze Medal at the 2023 Rodeo Uncorked!® International Wine Competition
-2021 Texas High Plains single-vineyard Mourvèdre, "Alta Semita"
Silver Medal at the 2023 Rodeo Uncorked!® International Wine Competition
Bronze Medal at the 2023 San Francisco Chronical Wine Competition
-2020 Texas Hill Country single-vineyard Petite Sirah, "Cura Annonae"
Silver Medal at the 2023 Rodeo Uncorked!® International Wine Competition
Silver Medal at the 2023 San Francisco Chronicle Wine Competition
For every bottle of wine sold by The Cause Urban Winery, at least $1 per bottle (or close to five percent) goes to charities. These include Memorial Park Conservancy, (2021 Alta Semita Mourvèdre); Houston Area Women's Center (2021 Vai Avanti Rosé of Mourvèdre); Scout's Honor Rescue (2021 Skýlos Viognier) and Houston Food Bank (2020 Cura Annonae Petite Sirah). The grapes are sourced from the Texas Hill Country and Texas High Plains with the wines produced in Kerrville, TX.
The artwork on the wine labels is a rendering of the recently opened Land Bridge at Memorial Park, a transformative green space for Houston-area residents and visitors. Rossi chose to represent the bridge as it is near her future tasting room and production space. She also likes the connotation of bridges and how they connect people, much like wine.
"I am thrilled about this amazing venture," says Rossi, a graduate of Memorial High School in Houston, with an undergraduate degree from Vassar and an MBA from Rice University. "I love everything about wine and the winemaking process, and my hope is to do this full time one day. I want people to appreciate Texas wines and to know that part of their purchase goes to worthy causes."
Rossi, who is in her 30s, currently works as a senior manager for Sendero, a management consulting firm. Her days are filled with business consulting, while evenings and weekends are dedicated to The Cause.
"The work is hard, but I am passionate about what I do," Rossi continues. "It's expensive to launch a startup, especially in the wine world. Yet, I simply love making wine, telling consumers about Texas wines, and helping charities."
Rossi began her wine studies in 2016 at The Texas Wine School and completed WSET (Wine & Spirit Education Trust) levels 1,2, and 3, French Wine Scholar, and Texas Specialist of Wine. She also completed the Winemaking Certificate program through Texas Tech University and began making homemade wine.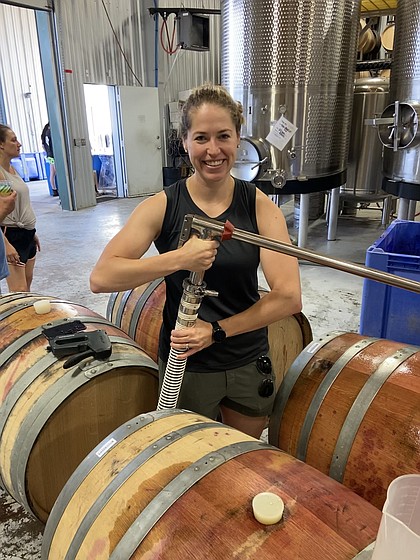 In 2020, during the pandemic, Rossi made her first commercial wine thanks to a winery incubator in Kerrville. The pandemic was actually a silver lining. "It allowed me to follow my wine dreams and bring my day job to the Texas Hill Country where I worked my first harvest and made my first commercial wine." Her job is mostly remote, allowing her to go back and forth to the Hill Country.
Rossi notes that she keeps her packaging expenses down, enabling her to give more money to charity. She does not use foil or embossing on her labels, nor wax or metal capsules over the corks, which helps contain costs.
The Cause Urban Winery has a warehouse facility at 6200 Stillman St. where online orders can be picked up. Delivery is also available within a 10-mile radius of the building. Rossi has eight additional wines from the 2021 and 2022 vintages currently in the works.
Upcoming events where the public can sample and/or purchase The Cause wines include Texas Wine Celebration Day at the Champion Wine Garden at the Houston Rodeo on Thursday, March 2 from 4:30 – 6:30 p.m. and Rice Village Farmers Market on Sunday, March 19 from 9 a.m. – noon.
Individuals can order wine from www.causeurbanwinery.com. Rossi also does wine tastings in private homes or other locations. Rossi's husband, Dr. Drew Rossi, is a big fan of her wines, preferring the Mourvèdre.
For more information, visit www.causeurbanwinery.com, where you can sign up for email updates about new wines, events and more.