MOCA Opens 2023 Exhibition Series, Expressions! With a High-tech Exhibit to Honor Dr. Martin Luther King, Jr. and Black History Month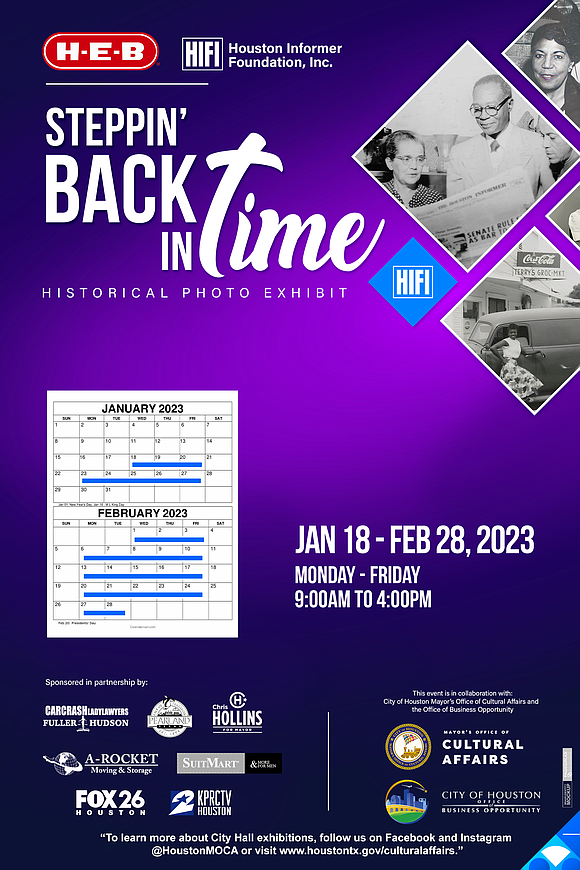 The City of Houston Mayor's Office of Cultural Affairs (MOCA) will open its 2023 exhibition series Expressions! with the exhibit, "Steppin' Back in Time: Houston in Retrospect." Houston Informer Foundation, Inc. (HIFI), originated this photography exhibition and virtual reality experience celebrating Black-owned businesses and community leaders of color in Houston.
The exhibit covers the years 1893 through the 1950s as documented by Houston Informer and Texas Freeman newspapers and includes a high-tech twist to honor Dr. Martin Luther King, Jr. and Black History Month.
"I look forward to exhibitions such as these that allow us to take a closer look at the history of the African American community, black-owned businesses and community leaders documented in a newspaper like The Houston Informer and Texas Freeman, considered to be the oldest Black newspaper published west of the Mississippi," said Mayor Sylvester Turner. "These exhibitions give us a better understanding of how Houston came to be and how its residents express themselves. I am excited for the next exhibitions by local artists and organizations that will follow suit and tackle the theme of Expression from different lenses; a true picture of the diverse city we call home."
The exhibition will be held in the City Hall rotunda from January 18 to February 28, 2023. It will open with a ribbon-cutting and reception at Noon on Wednesday, January 18.
"The exhibition is the perfect opener for the series," stated Necole S. Irvin, MOCA Director. "It highlights self-expression and the African American residents who made a difference in Houston, fought racism, and overcame other barriers. We are proud to partner with HIFI and the Office of Business Opportunity to lift up these important stories."
Expressions!, a series of exhibitions curated by Community Liaison Victor Ancheta, will continue throughout the year with five other planned exhibitions.