Ring in Spring with Hanami Hour at JINYA Ramen Bar
Acclaimed Japanese ramen restaurant serving up special deals from March 22 through April 5.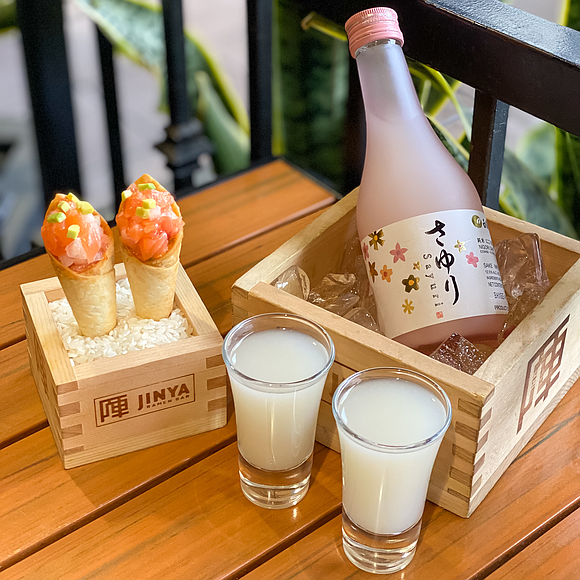 Spring is here, which means that it's a good time to smell the flowers and enjoy Hanami Hour at JINYA Ramen Bar.
The traditional Japanese custom of taking in the momentary beauty of cherry blossoms in full bloom, Hanami has also become synonymous with friends and families coming together under a tree to share a delicious meal. That's why, from March 22 through April 5, JINYA is bringing a piece of Japan to its restaurants in the U.S. and Canada with the special combo of Nigori Sake, along with a Spicy Tuna and Salmon Cone for $18.
"When it comes to celebrating Hanami, Sake is the emblematic drink for that perfect moment in nature when the cherry blossoms return to signify the Spring season," said JINYA Founder and CEO Tomo Takahashi. "Bringing Hanami Hour to JINYA, we can't wait for our fans to experience a taste of that beauty with our Nigori Sake and Spicy Tuna and Salmon Cone."
To enjoy the Hanami Hour, guests must be 21 years and older and it cannot be combined with other specials or promos. The Nigori Sake brand may vary per JINYA locations in Canada.
At JINYA, guests can experience ramen the way it is meant to be – with thick, rich broth in perfect balance with flavorful noodles. Discover a wide array of authentic toppings, from tender pork chashu to a perfectly cooked and seasoned poached egg to fresh garlic and elevate the experience further with curated appetizers or a craft beer. To learn more about JINYA's full menu, visit jinyaramenbar.com.
JINYA Ramen Bar: A Bowl Above All Others