The annual Los Angeles Latino International Film Festival has announced its full schedule for this year's festival!
The 2023 LALIFF program is now live!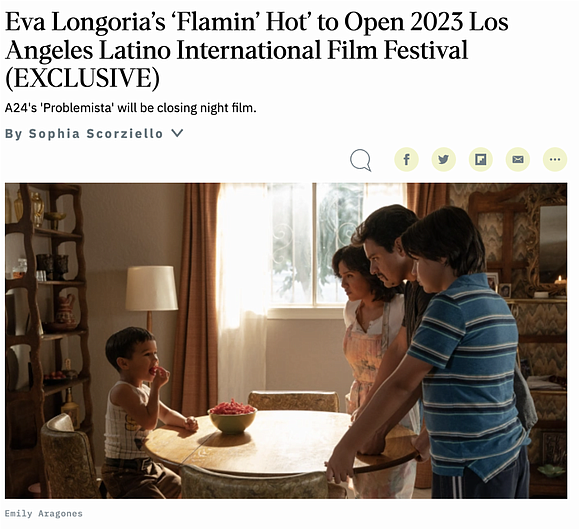 LALIFF is celebrating its 22nd festival with an exciting abundance of Latinx excellence from films, to episodic works, to music, to industry events, and more. Join the five-day celebration of screenings, live music, panels, and networking opportunities, that all celebrate the diversity and talent of Latine artists.
OPENING NIGHT FILM AND GALA
On Wednesday, May 31st, LALIFF kicks off with a screening and gala celebrating the West Coast premiere of Eva Longoria's acclaimed Flamin' Hot, which tells the fictional story of Richard Montañez, the Frito Lay janitor who channeled his Mexican American heritage to turn the iconic Cheetos into a snack that disrupted the food industry and became a global pop culture phenomenon.
The outstanding cast of the film includes Jesse Garcia, Annie Gonzales, Dennis Haysbert, and Emilio Rivera, among others.
The screening will be followed by a gala with live musical performances, featuring La Misa Negra.
Wednesday, May 31st
TCL Chinese Theatre IMAX
Doors open at 6:00 PM
Flamin' Hot - Directed by Eva Longoria
Photo: Searchlight
CLOSING NIGHT FILM
LALIFF will wrap up the festival on a high with Problemista, from writer, director, and actor Julio Torres. The film tells the story of an aspiring toy designer from El Salvador, struggling to bring his unusual ideas to life in New York City. As time on his work visa runs out, a job assisting an erratic art-world outcast, interpreted by Tilda Swinton, becomes his only hope to stay in the country and realize his dream.
The screening will be followed by a reception with live musical performances, featuring J. Güero.
Sunday, June 4th
TCL Chinese 6 Theatres
Doors open at 6:00 PM
Problemista - Written/Directed by Julio Torres
Photo: A24
TICKETS ARE AVAILABLE NOW!
Check out the full lineup with photos, trailers, and all information for every title screening during LALIFF 2023 HERE.