Celtics super fan turns basement into place to be on game day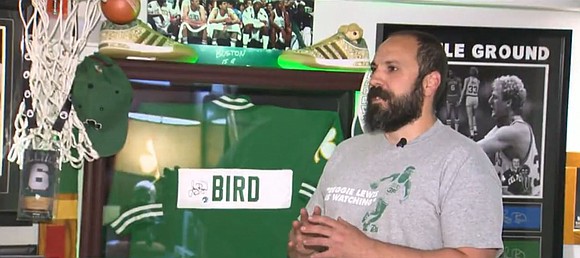 Originally Published: 17 MAY 23 12:26 ET
By KRISTINA REX
NORWOOD, Massachusetts (WBZ) -- Some of Boston sports' biggest fans rarely sit in the stands and watch a game in person. Take, for example, John Carbone of Norwood.
Most days, Carbone's basement is filled with the sounds of daughters Bella and Gabby playing Lego surrounded by green decor. But on Celtics game day, it transforms.
Friends and neighbors fill the room, their names on plaques at the "bar." During game breaks, Carbone hosts trivia, and the winning answer gets a piece of priceless Celtics history.
"I look at everything from like a historical perspective," Carbone told WBZ-TV.
He has bricks from the old Boston Garden, pieces of the floor, Larry Bird signed memorabilia, and more. Plus, it all sits next to his kids' tee ball hats – because he wants to show them that they, too, can sit next to the greats.
For Carbone, the passion began at a young age, when his father offered to volunteer at autograph signings for the athletes.
The Carbones would be paid in autographs for their time. The catch? John's dad didn't even love sports; he just saw his son's passion and created the pathway to a lifetime of love for the game.
Carbone later worked at the Garden Pro Shop, and now manages a Celtics collector's Facebook page with thousands of members. He's the go-to person when people need to determine if something they're buying is legitimate.
Carbone is preparing to host friends and newcomers for Game 1 of the Eastern Conference Finals on Wednesday. His prediction?
"Knowing the Celtics and seeing them, I think they can beat the Heat handedly. But I can see them having like a 40-point lead and then maybe losing by one in one game. So I'm going to say Celtics in six," he said.