San Antonio Spurs win NBA Draft lottery and are expected to pick 7-foot-4 Frenchman Victor Wembanyama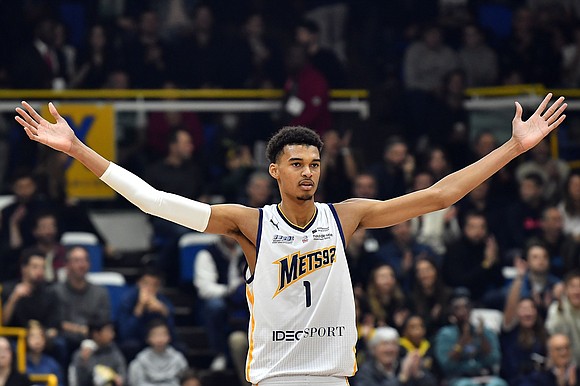 Originally Published: 16 MAY 23 22:19 ET
Updated: 17 MAY 23 02:09 ET
By Kevin Dotson, CNN
(CNN) — Young French superstar Victor Wembanyama is likely headed to San Antonio after the five-time NBA champion Spurs on Tuesday night won the rights to the top pick at the NBA Draft lottery.
"I can't really describe (my emotions) right now," the 19-year-old told ESPN from Paris. "My heart is beating, I've got everyone I love around me. It's a really special moment I'm going to remember for the rest of my life."
Wembanyama is a 7-foot-4, inside/outside player who leaves defenders and viral videos in his wake. There have been few players whose journey to the pinnacle of basketball have been as highly followed: In figures released by the NBA, Wembanyama is No. 8 on its list of the top-10 most-viewed players on social media this season – despite not even being in the league yet.
The Spurs, who went 22-60 this season, last won an NBA title in 2014, led by Hall of Famer Tim Duncan and Tony Parker, the first Frenchman to be inducted into the Naismith Memorial Basketball Hall of Fame.
Duncan was the selection the Spurs made the last time they had the top overall pick in the NBA draft in 1997. He went on to win five championships for San Antonio.
"I'm trying to win a ring ASAP, so be ready," Wembanyama said to ESPN.
Following the lottery, Spurs Managing Partner Peter J. Holt said, "The team and the city that sticks with us and put so much effort and love into the organization, it's just amazing for them to get rewarded."
With NBA champions, MVPs and all-stars – LeBron James, Giannis Antetokounmpo, Steph Curry and Kevin Durant, to name a few – all expressing their excitement at Wembanyama's arrival in the United States, analysts are likening his coming to the NBA to that of the teenaged James in 2003.
"He's like a (NBA) 2K created player, every point guard that wants to be seven foot. Cheat code type vibes," said four-time NBA champion Curry.
Durant added, "The league's really in trouble when he comes in."
Wembanyama has become elite at handling the ball, dribbling, passing, jump shooting and scoring from three-point range. Throw all of that together with being over 7 feet tall and there's no wonder he's being touted as the most exciting player to enter the league in 20 years.
In fact, James described Wembanyama as an "alien" and a "generational talent," while two-time MVP Antetokounmpo said the NBA has "never seen someone like that before."
Entering the NBA Draft lottery, the Spurs, Detroit Pistons and Houston Rockets each had 14% odds of securing the top selection.
The Charlotte Hornets won the second selection, the Portland Trail Blazers will pick third, the Rockets nabbed the No. 4 slot and the Pistons will go fifth.
The NBA Draft takes place on June 22.