Beyoncé pays tribute to her musical inspiration Tina Turner, nods to their 2008 Grammys performance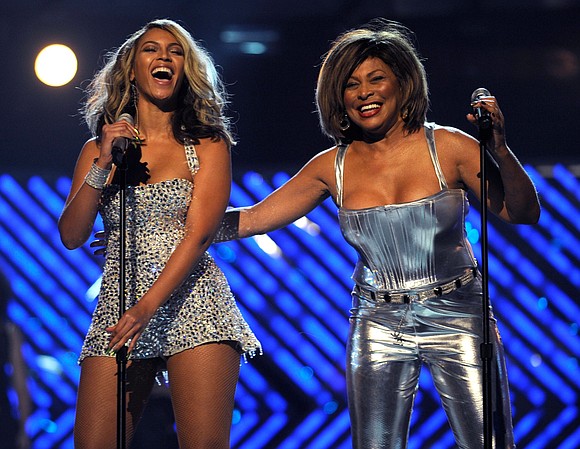 Originally Published: 25 MAY 23 07:55 ET
Updated: 25 MAY 23 08:38 ET
By Lisa Respers France, CNN
(CNN) — Beyoncé is paying tribute to the late Tina Turner.
"My beloved queen, I love you endlessly," Beyoncé wrote in a message on her website. "I'm so grateful for your inspiration, and all the ways you have paved the way."
"You are strength and resilience," she continued. "You are the epitome of power and passion. We are all so fortunate to have witnessed your kindness and beautiful spirit that will forever remain. Thank you for all you have done."
Her message featured a photo of the pair holding hands and bowing at the 2008 Grammy Awards, where they performed Turner's hit "Proud Mary" together.
Beyoncé had two Tinas in her life.
Tina Knowles, Beyoncé's mother, posted video on Instagram on Wednesday of her daughter meeting up with her musical inspiration Turner to rehearse for that Grammys performance. Knowles wrote in the caption, "I remember this day like it was yesterday. It was the day that Beyoncé was to rehearse with Tina Turner for the Grammys."
"We were both so excited and when she arrived and we were told that she was in the other (room) we all witnessed Beyoncé, turning into a five-year-old actually skipping across the floor to embrace her," Knowles wrote. "I was the biggest fan and had my own story of when I met Tina in 1980. Beyonce always talked about the two Tinas that she loved and admired."
Turner died Wednesday after a long illness in her home in Küsnacht near Zurich, Switzerland. She was 83.
Beyoncé was outspoken about how Turner had paved the way for her.
In 2005 at the Kennedy Center Honors, the younger singer took to the stage to honor the elder.
"Every now and then when I think of inspiration, I think of the two Tinas in my iife: that's my mother Tina, and of course the amazing Tina Turner," Beyoncé said. "I'll never forget the first time I saw you perform. I never in my life saw a woman so powerful, so fearless, so fabulous. And those legs!"
Bey then got the audience to stand in honor of Turner before she launched into an energetic performance of "Proud Mary." Turner laughed, smiled and grooved along with Beyoncé.
In her remembrance this week, Knowles wrote that Turner was "lovely" and "bigger than life" at the Kennedy Center Honors, but said the 50th Annual Grammys duet with her daughter three years later "was different."
"She actually got to perform side-by-side with Tina Turner!," Knowles wrote in the caption. 'They had so much laughter those days and it is one of Beyonce's best memories."
"It was so powerful…I felt like a little kid," Beyoncé said of the rehearsal with Turner for the Grammys at the time, during an interview on "The Oprah Winfrey Show." "Basically I told her how much she means to me and this is literally a dream for me."
Knowles remembered that moment as Turner at her finest: full of life and giving the audience her all at the then spry age of 68.
"The world is a less better place without this legendary, gorgeous resilient woman," Knowles said in her message.
"When I need to get my super strength together and know that I can overcome anything, I think of Tina Turner who started over in her mid 40's and became the biggest super star," Knowles wrote. "It always gives me hope that it's not about the age it's about the person. Today I celebrate this amazing, beautiful, resilient queen she will be sadly missed. She was 'Simply The Best.'"