Houston native serves with U.S. Navy in Japan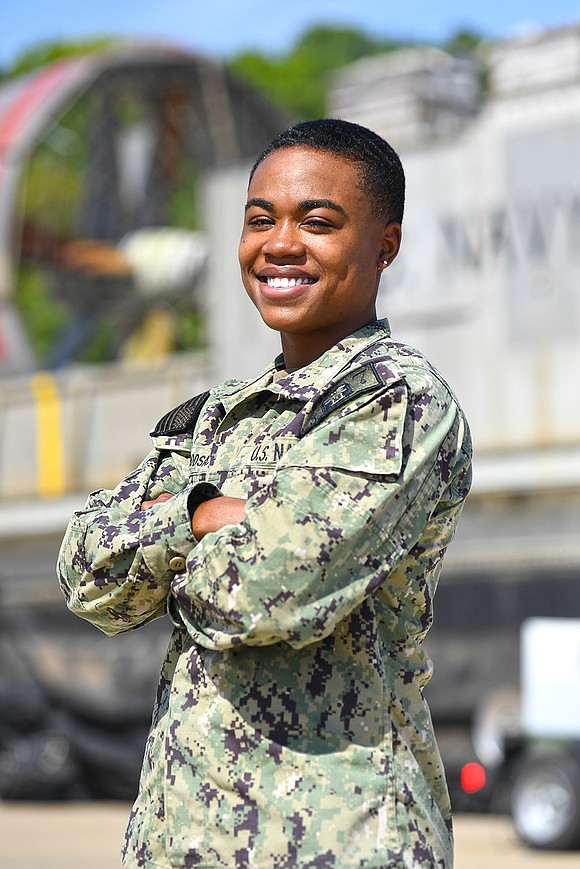 By Senior Chief Yeoman Thorson, Navy Office of Community Outreach
SASEBO, Japan - Seaman Imani Navebloodsaw, a native of Houston, Texas, serves the U.S. Navy in Japan.
Navebloodsaw attended Klein High School and graduated in 2021.
Navebloodsaw joined the Navy two years ago.
"I joined the Navy to continue my family's legacy of service," said Navebloodsaw.
Today, Navebloodsaw serves as a seaman with Naval Beach Unit 7.
Skills and values learned in the Navy are similar to those found in Houston.
"Being on the track and field team in high school and college, I learned about selflessness, as well as routine and commitment," said Navebloodsaw.
According to Navy officials, Naval Beach Unit 7 empowers forward-deployed U.S. and Allied Forces while providing superior support to military members and their families.
"As the largest force in our nation's front line against revisionist actors, U.S. Pacific Fleet meets this great responsibility with strength, resolve and confidence," said Adm. Samuel Paparo, U.S. Pacific Fleet Commander. "Together with our joint and combined partner operations, we are positioned to defend - across all domains - any attempts to threaten our nation, our allies and partner's security, freedom and well-being."
As a member of the Navy, Navebloodsaw is part of a world-class organization focused on maintaining maritime dominance, strengthening partnerships, increasing competitive warfighting capabilities and sustaining combat-ready forces in support of the National Defense Strategy.
"The Navy contributes to national defense by constantly adapting to change, and keeping high standards to ensure our members are ready for anything," said Navebloodsaw.
As Navebloodsaw and other sailors continue to train and perform missions, they take pride in serving their country in the United States Navy.
"Serving in the Navy means that I can get to see the world, proudly wear the uniform, and make my family and friends proud," said Navebloodsaw.
Navebloodsaw is grateful to others for helping make a Navy career possible.
"I would like to thank my high school best friend, Sala, who inspired me to join the Navy," added Navebloodsaw.
Navebloodsaw serves in Japan as part of the Forward Deployed Naval Forces. These naval forces operate with allies and partners to preserve a free and open Indo-Pacific region. Service members in this region are part of the U.S. Pacific Fleet, which has the largest area of responsibility in the world.