METRO Program Continues to Bring Student Art to Local Communities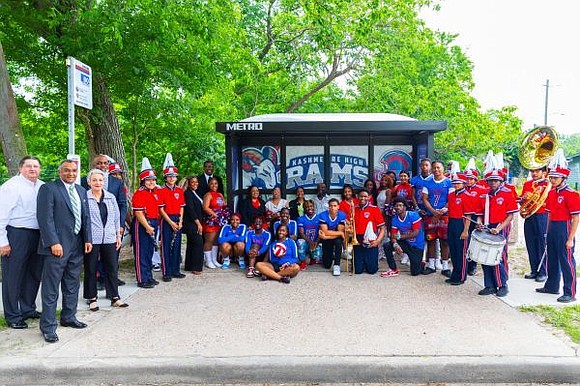 METRO's Bus Shelter Art Program continues to inspire by bringing student art to local neighborhoods. This week, METRO cut the ribbon on a new bus shelter near Kashmere High School and announced winning shelter designs from five Aldine Independent School District campuses. The collaborations are examples of how organizations and residents can work together to improve the community.
"These projects are exciting for us because when we enlist young people to become changemakers, we are investing in the future," said METRO Board Chair Sanjay Ramabhadran.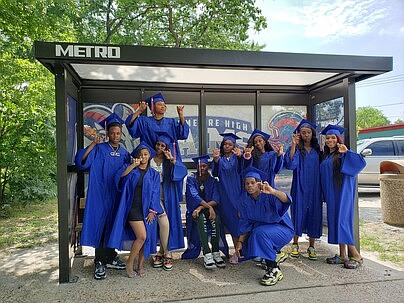 Kashmere High School freshman and winning artist Tianna Newell said her design was inspired by the sports and magnet programs offered on campus. She saw the results of her efforts for the first time during the unveiling of a METRO shelter on Lockwood Drive near Shreveport Boulevard — along the planned METRORapid University Corridor route.
"When I saw it, I was like, 'Wow. This is big. This is really big,'" said the ninth-grader.
In Aldine, a reception was held announcing winners from five area high schools. Submissions will be used for upcoming bus shelter designs in the community. Winning artists included:
Kathleen Robles, MacArthur High School
Jordan Barnes, Carver High School
Alondra Gallegos, Aldine Senior High School
Arlenne Rodriguez, Avalos P-Tech High School
Estefany Ramirez-Gonzalez, Blanson CTE High School
METRO President & CEO Tom Lambert said quality bus shelters are essential because they are part of the Authority's commitment through METRONext to provide a better walk, a better stop, and a better ride. He added that the program has been praised for its potential to build bridges while also leaving a lasting impact on generations to come.