Rev. William "Bill" Lawson Grateful that Commissioner Ellis Names Park after Civil Rights Icon and his Wife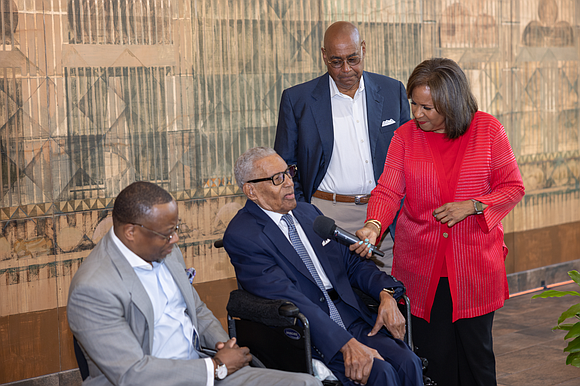 The audience fell emotionally silent when the Rev. William "Bill" Lawson fielded questions from his daughter, Channel 13 anchor Melanie Lawson, during a ceremony hosted by Commissioner Rodney Ellis to dedicate a park named after Rev. Lawson and his late wife, Audrey.
After Melanie Lawson thanked Harris County Commissioner Rodney Ellis and the Flood Control District for the Rev. William "Bill" and Audrey Lawson Park, she held the microphone for her father as he sat in his wheelchair.
"Can I ask you something?" the daughter said. "Why was it so important to you to have Mama's name on there as well? They came to you initially and said, 'Rev. Lawson, we'd like to honor you.' And why did you insist that Audrey Lawson be on the same plaque?"
"You and Cheryl and Roxanne know very well why that is," replied Rev. Lawson, founding pastor emeritus at Wheeler Avenue Baptist Church. "When I first came to Houston, I came because Audrey was willing to honor the invitation of Texas Southern University. And ever since that time, she and I have been together."
Melanie Lawson then asked her father if he feels nothing he accomplished would have happened without her mother.
"Pretty much," Rev. Lawson said, breaking the silence with applause from the small crowd.
Those emotional moments came as Commissioner Ellis hosted the park dedication ceremony on Monday, May 22. Formerly known as the Dagg Stormwater Detention Basin, the Lawson Park adjacent to Christia Adair Park, 15107 Cullen Blvd., in Houston, occupies approximately 22 acres of land at the site of a former sand pit purchased by the Flood Control District in 2017. Construction began in spring 2020.
Precinct One invested $388,659 for an .8-mile trail and $10,600 for benches and trashcans.
"It's hard to think of two other people who have made the impact that they have made as faith leaders, civil rights icons, and advocates for education, the arts and social justice," Commissioner Ellis said. "We owe them a debt of gratitude that we can repay by honoring their legacy and carrying it forward."
Dr. Tina Petersen, Flood Control District's Executive Director, said the basin in the Clear Creek watershed captures water, holds it during a heavy rain and releases it slowly after a rain. She said that protects roadways, homes and other properties.
"We are so happy to be here today, Rev. Lawson, to honor you and your wife with this park," Dr. Petersen said. "I know you have made such a lasting impact on Houston and Harris County."
Speaking for the Lawsons, Melanie Lawson said the family – including her two sisters, Cheryl and Roxanne – were grateful for the honor.
"On behalf of our family," she said, "let me just tell you we are just absolutely overwhelmed. It is just hard to take in how enormous an honor and compliment this is to my parents."
In 1955, a young reverend and his beautiful bride decided to move to Houston, where he would take a job as chaplain and professor at TSU, and she would serve as a social worker at an orphanage for Black youth.
Together, they co-founded the historic Wheeler Avenue Baptist Church -- which serves as spiritual center and civil rights institution. Throughout the 1950s and 1960s, Rev. Lawson and Audrey were leaders of Houston's civil rights movement. They organized and empowered students and activists, and built diverse coalitions. Also, Rev. Lawson played a pivotal role in the desegregation of Houston.
"So, do you feel like nothing you accomplished would have happened without Mama, too?" Melanie Lawson asked her father at the event.
"Pretty much," he said. Then, after encouragement from his daughter, he added: "Well, it is a certainty that I would not go into anything until I knew that she was going with me."
"How do you think Mama would feel if she saw this park today?" Melanie said.
"I think she would certainly say that this was a special honor," Rev. Lawson said.
"I think it's special, too, Daddy," Melanie added. "Thank you so much."