Announcing Community Activist Ndjabuka Francine Murhebwa as Afternon Keynote Speaker at The Alliance 6th Annual Refugee Mental Health & Wellness Conference
Ndjabuka Francine Murhebwa joins Anhlan Nguyen, DBA, as keynotes during this cross-cultural event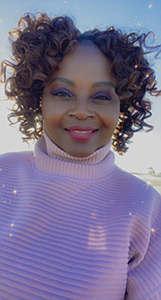 The Alliance, a non-profit organization serving Greater Houston, is pleased to share that Community Activist Ndjabuka Francine Murhebwa will be the afternoon keynote speaker during The Alliance 6th Annual Refugee Mental Health & Wellness Conference. The cross-cultural event is open to the public and scheduled for Wednesday, May 31, 2023 from 9:00 am – 4:30 pm at the United Way of Greater Houston, 50 Waugh Drive, Houston, Texas.
Ndjabuka Francine Murhebwa is Director of the Pamoja (together) Program at FAM Houston, a non-profit community-based organization. FAM's mission is to work for justice by building empowered community among refugees, immigrants, and local Houstonians.
"Pamoja" means "together" in Swahili. As Pamoja Program Director, Murhebwa connects newcomer and Houstonian families to form relationships, engage in mutual learning, and walk alongside one another through life's ups and downs. This companioning model bridges gaps for newcomers and locals across faith traditions in the metroplex.
Murhebwa's personal experience is part of the inspiration for the Pamoja Program. She fled her home in Congo and sought asylum in the U.S. In a 2021 Houston Chronicle interview, Murhebwa explained that when people leave their homes to seek refuge or asylum in a strange new land, they often lose their sense of identity and belonging. "Any of us in a new place, with a new language to learn, understands 'I need a friend. I need someone who will walk with me, listen to me and be compassionate,'" she said. A Pamoja companion walks alongside a refugee through life's ups and downs, forms an ongoing relationship, and helps connect families with resources.
"It's good to work in Impartiality, Neutrality and without Discrimination," said Murhebwa. "Il est bon de travailler dans L'impartialité, La netralite et sans Discrimination" and "Ni Vizuri Kufanya Kazi Bila Upendeleo, Usawa na Bila Ubaguzi," she added in French and Swahili.
In addition to her work with the Pamoja Program, Murhebwa has worked at Memorial Hermann Hospital System, and she is the loving mother of three children - Faith, Nathan, and Noah.
The conference offers CEUs and is open to the public. To register for the event, please click here.