BikeHouston Paves the Way for Bike Accessibility in Houston, Thanks to a $50,000 Grant From Green Mountain Energy Sun Club
BikeHouston to install 15 bike stations across Houston plus an electric cargo trike for vehicle transport.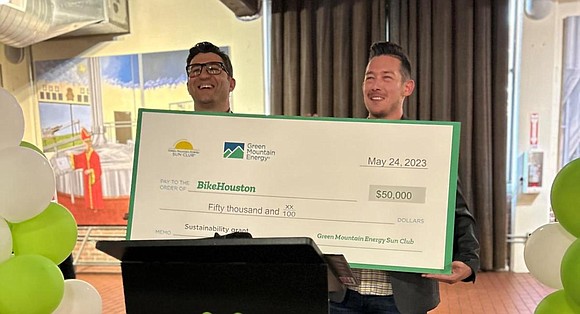 BikeHouston is celebrating the funding of 15 new bike stations and an electric cargo trike, thanks to a $50,000 grant from Green Mountain Energy Sun Club. The new electric cargo trike will eliminate the need for gasoline-powered vehicle transport for BikeHouston, while strategically placed bike stations with racks and air pumps at local businesses and trail entry points will encourage more usage.
"BikeHouston is committed to filling gaps in the bike network and taking down the barriers that keep people from getting on bikes," said Joe Cutrufo, BikeHouston Executive Director. "We are grateful to Green Mountain Energy Sun Club for their generosity and look forward to Houston becoming a city where anyone can bike."
BikeHouston was founded in 2004 on a mission to transform Houston into a city where anyone, regardless of who they are or where they live, can safely and easily get around by bike. The nonprofit is the only one in Houston focused on these issues and works to achieve this goal through partnerships, advocacy, education, and enhancing bike parking in the city, which is a primary factor in why people do not bike. Through BikeHouston's advocacy, the City of Houston has made incredible progress with the continual expansion of parks and trails as well as safe on-street biking to provide access to these expanding parks and trails.
"Sun Club recognizes the importance and benefits of sustainable practices from organizations in the community," said Mark Parsons, Green Mountain Energy vice president. "We are excited to play a role in the impact these new bike stations and electric cargo trike will have in supporting BikeHouston's mission of promoting safe and accessible bike riding in the city of Houston."
Green Mountain Energy, the nation's longest-serving renewable energy retailer, founded Sun Club in 2002 to advance sustainability by partnering with nonprofit organizations engaged in meaningful work that supports the communities the company serves. BikeHouston is one of more than 150 projects to receive a sustainability grant since Sun Club's founding. The grants are awarded to nonprofits seeking to implement projects promoting renewable energy, energy efficiency, resource conservation and environmental stewardship.
The first bike station installation from this grant is located at the headquarters of The Orange Show Center for Visionary Art. This location's installation will provide bike accessibility for riders arriving from the Brays Bayou bike path in addition to making bike transportation and parking more accessible to the art center's headquarters.
To learn more about BikeHouston and the 14 remaining bike stations being set up across Houston, visit bikehouston.org.