Artists Respond to Conditions in Harris County Jail and Mass Incarceration in the US
NOVEMBER 4TH - NOVEMBER 30TH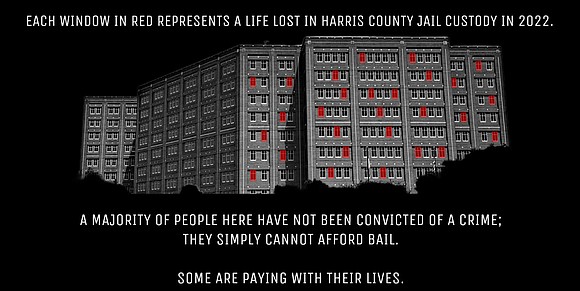 In early November, Art at a Time Like This will launch 8x5 Houston, a public intervention with artworks responding to the mass incarceration crisis. Displayed on ten billboards and four mobile billboard trucks throughout the city, the project will run from November 4th to November 30th.
8x5 Houston is named for the size of the average prison cell, as illustrated by the cutting-edge artwork by Houston's own Mel Chin. These works come at a critical moment in the future of criminal justice in Harris County, with nearly 40 people dying in the local jail in the last two years. Artists–key participants in preserving democracy–are vitally concerned with this issue; many of them have come from first-hand experience with injustice and the incarceration system.
The billboards were designed by artists known nationally and regionally. Mel Chin, Trenton Doyle Hancock and Faylita Hicks, all born or living in Houston, as well as returning citizen Jared Owens, and activist artist Jenny Polak, were invited directly by the Art at a Time Like This organizers. Of particular note, Polak is featured in recognition of her collaboration with clients of Fortune Society, one of the oldest prison reform organizations in the U.S. In addition, artists McKenna Gessner, Monti Hill, Kill Joy, Chandrika Metivier, and El Rebo were selected from an open call that drew over 120 applications by judges Christopher Blay, Chief Curator at the Houston Museum of African American Culture, Ashley DeHoyos Sauder, Curator, DiverseWorks, Bridget Bray, independent curator, and Anne Verhallen and Barbara Pollack, founders of Art at a Time Like This. 8x5 Houston is the second edition of this project which launched in Miami in Summer of 2022.
To raise awareness and provide an outlet for community participation, 8x5 Houston will hold a panel discussion at the Houston Museum of African American Culture on November 4th at 2 PM, moderated by the museum's Chief Curator Christopher Blay.
8x5 Houston is a collaboration with several organizations including SaveArtSpace, which helped procure the billboards, the Texas Center for Justice and Equity, the Houston Museum of African American Culture, the Rothko Chapel, DiverseWork, the Orange Show and the Art League Houston.
8x5 Houston is funded by the Brown Foundation, the Barton Family Foundation, The Prisoner Wine Company and several generous donors. Many thanks to art advisor Lea Weingarten and independent curator Bridget Bray for their invaluable assistance.
8x5 Houston Organizers
Houston Museum of African American Culture seeks to preserve and collect the creative and intellectual culture of Africans and African-Americans in Houston, the state of Texas, the Southwest and the African Diaspora for visitors of all backgrounds.
Art at a Time Like This is a 501c3 not-for-profit arts organization that serves artists and curators facing the 21st century, presenting art in direct response to current events. Utilizing digital and public platforms, this organization presents art in a non-profit context, highlighting art as an invaluable conveyor of content, rather than commodity. Our mission is to show that art can make a difference and that artists and curators can be thought-leaders, envisioning alternative futures for humanity.
SaveArtSpace is a non-profit organization that works to create an urban gallery experience, launching exhibitions that address intersectional themes and foster a progressive message of social change. By placing culture over commercialism, SaveArtSpace aims to empower artists from all walks of life and inspire a new generation of young creatives and activists.
Selected Artists
Mel Chin (born in 1951, Houston) is a national treasure and a recipient of the MacArthur "Genius" Fellowship in 2019. His work conveys complex ideas and themes through a mutative strategy, working alone or employing different disciplines and people, compelled by researched concepts.
Chin's Revival Field (1991), pioneered "green remediation", using plants to remove toxic metals from the soil. From 1995-1998 he formed the collective the GALA Committee that produced In the Name of the Place a public art project conducted on American prime-time television. His actions for the Fundred Project (2008-2019) to end childhood lead-poisoning, activated mass public engagement as a means for policy-maker education. He has produced original films such as 9-11/9-11 (2007), to de- center preoccupations that engender nationalism and L'Arctique est Paris (2015), to deliver the poignant warnings of a Greenlandic subsistence hunter to an international audience. In 2018 he filled New York's Times Square with Wake, on the ground, and Unmoored, in the air, creating an experiential portal into a past maritime industry and a future of rising waters. All Over the Place, a 40-year survey, was named by Hyperallergic as the best NYC exhibition of 2018. Currently the recipient of the Rome Prize, Chin has received numerous awards, grants, and honorary degrees.
Connect with Mel on Instagram at @mel.chin.
McKenna Gessner (lives in Houston) is an artist, activist, and healer. McKenna's art explores themes of reproduction, the disruption of cycles, survival, landscapes, and the medicalized body. They enjoy experimental techniques using a wide variety of materials, contexts, and reimaginings of the making process. In addition to digital art, McKenna creates film photographs, cyanotype prints, collages, and video projection. Their work has appeared in gallery shows at Hardy & Nance Studios and Aurora Picture Show x The Menil Collection's annual Bring Your Own Beamer event.
Creating this design for 8X5, McKenna invoked their deep interest in dismantling mass incarceration through restorative justice. McKenna currently teaches health classes at the Harris County Jail since starting the program in 2021 and engages in efforts to improve medical care for incarcerated patients. They are featured on an episode of the Baylor College of Medicine Resonance podcast focused on incarceration and health and led a roundtable discussion at the National Conference on Correctional Health Care in 2023. McKenna is currently finishing their final year of medical school with plans to become a full-spectrum family physician and community advocate.
Trenton Doyle Hancock (born in 1974, lives in Houston) has produced decades-worth of fantasy and commentary, incorporating iconography from art history, comics and superheroes, pulp fiction, and myriad pop culture references, resulting in a complex amalgamation of characters and plots possessing universal concepts of light and dark, good and evil, and all the grey in between. In 2019, a major exhibition of his work, Mind of the Mound: Critical Mass, opened at MASS MoCA, North Adams, MA. In 2014, his retrospective, Skin & Bones: 20 Years of Drawing, at the Contemporary Arts Museum in Houston traveled to Akron Art Museum, OH; Studio Museum in Harlem, NY; and Virginia Museum of Contemporary Art, VA. Hancock is represented by James Cohan Gallery in NY.
His work is in the collections of museums worldwide including the Museum of Modern Art; Whitney Museum of American Art; Metropolitan Museum of Art; Studio Museum in Harlem; San Francisco Museum of Modern Art; Dallas Museum of Art; Menil Collection; Detroit Institute of Art; Museum Boijmans Van Beuningen; and il Museo di arte moderna e contemporanea, Trento, Italy.
Connect with McKenna on Instagram at @corporeal_archive.
Connect with Trenton Doyle Hancock on Instagram @trenton_doyle_hancock.
Faylita Hicks (born in California, raised in central Texas and living in Chicago) is the author of HoodWitch (Acre Books, 2019), a finalist for the 2020 Lambda Literary Award for Bisexual Poetry, the 2019 Julie Suk Award, and the 2019 Balcones Poetry Prize. A queer Afro-Latinx activist, writer, interdisciplinary artist, and cultural strategist, they are currently working on the forthcoming poetry collection A Map of My Want (Haymarket Books, 2024), and a debut memoir about their carceral experience A Body of Wild Light (Haymarket Books, 2025). Their personal account of time in pretrial incarceration was featured in the ITVS Independent Lens 2019 documentary 45 Days in a Texas Jail, and the Brave New Films 2021 documentary, Racially Charged: America's Misdemeanor Problem. In 2023, they starred in Cara Mia Theatre's national touring production of the Whiting-Award winning one-person show Your Healing Is Killing Me written by Virginia Grise and directed by Kendra Ware. The former Editor-in-Chief of Black Femme Collective and Borderlands: Texas Poetry Review, their digital art, poetry, essays, and interviews have been featured in Academy of American Poets' Poem-A-Day Series, Adroit, American Poetry Review,
AfroPunk, Ecotone, Foglifter, Hayden's Ferry Review, Kenyon Review, Longreads, Poetry Magazine, Scalawag, Slate, Texas Observer, The Slowdown Podcast, Yale Review, amongst others. Hicks is an inaugural member of the Center for Art and Advocacy where they support previously incarcerated emerging and established writers and artists from around the nation. Their work has been anthologized in Poemhood: Our Black Revival (Harper Collins, 2024), Mid/South Sonnets Anthology (Belle Pointe Press, 2023), The Long Devotion: Poets Writing Motherhood (UGA Press, 2022), When There Are Nine (Moon Tide Press, 2022), and others.
Connect with Faylita on Instagram, Facebook, and TikTok at @faylitahicks.
Monti Hill (born in San Antonio, lives in St. Louis) is, among many things, the full-time Digital Coordinator of Grassroots Leadership, an abolitionist organization focused on uplifting communities throughout Texas to abolish for-profit private prisons, jails, and detention centers.
Her work is concentrated on community storytelling for the digital community. Most of the organization's members or people in the communities are taking back the narrative through storytelling and sharing powerful narratives of formerly incarcerated people and the crimmigration legal system. She has experience working in local politics as an organizer, but it all started by donating her time to design for local campaigns.As the digital community grows and expands, it's essential to support intentional visual storytelling, branding, and marketing for communities to begin healing and ensuring Black and brown folx are leading the narratives.
For more information, you can reach her at monti@designandracialequity.com or on social media IG
@monti.hill or at @designandracialequity
Kill Joy (born in Odessa, Texas of Filipino descent) Is one of Houston's favorite street artists who also creates puppets, posters and other artworks to get the word out about environmental justice and the state of the Earth. Integrating mythology from around the world, these artworks reflect the ancient mythology and symbols of places that the artist has lived and investigated: West Texas, Mexico City, Honduras and Southeast Asia.
Most recently, Kill Joy's prints of relief carvings were used by the Union of Agricultural Workers and other activists during May Day protests in Manila. She participated in an exhibition, Majority Rule: Myth-making practices and survival strategies from the Global South, at Sanman Studios.
Connect with Kill Joy on Instagram at @kill.joy.land.
Chandrika Metivier (born 1995, lives in Houston) is a non-binary multidisciplinary artist influenced and informed by their multiracial heritage, including Haitian, Native and Hispanic backgrounds. Most recently, Chandrika was featured in the Houston Chronicle for their ongoing public graffiti installation, #WOMANLIFEFREEDOM, on the well-known "Be Someone" bridge that runs over Interstate 45. Chandrika's signature use of mylar has led to large-scale installations in Houston, L.A., New Orleans, Detroit and New York. During the 2020 U.S. election, Chandrika revamped and localized the "VOTE OR DIE" campaign that mobilized young BIPOC voters in Houston's Third Ward. They have a degree from the University of Houston and trained at the Identity School of Acting in Los Angeles.
The billboard's text comes from Transforming Carceral Logics: 10 Reasons to Dismantle the Prison Industrial Complex Through Queer/Trans Analysis and Action by S. Lamble published by True Leap Press.
Connect with Chandrika on Instagram at @ch4ndrika.
Jared Owens (b. 1968, New York City) is a self-taught artist, working in painting, sculpture and installation using materials and references culled from penal matter.. As a formerly incarcerated artist, Owens' practice calls attention to the struggles of nearly 2.5 million people under the control of the American carceral state, raising critiques concerning the legality and morality of the prison industrial complex. Recent exhibitions include Marking Time: Art in the Age of Mass Incarceration at MoMA PS1 (2021), Rendering Justice at the African American Museum in Philadelphia (2021), and The O.G. Experience in partnership with HBO and SOZE in Chelsea, NYC (2019). In 2020 he received a Right of Return Fellowship from SOZE Agency and he is a 2021-22 Fellow at Silver Arts Projects. Additionally, he is a key speaker in the 2021 Emmy Award-winning documentary, Art & Krimes by Krimes.
Connect with Jared on Instagram at @jaredowensart
Jenny Polak (b. 1957, London) is a multidisciplinary artist, making site and community-responsive art that reframes immigrant-citizen relations, amplifying demands for social justice. Her collaborations and site-specific projects have been exhibited widely and awarded support by NYFA, the Graham Foundation for the Advanced Study of Visual Art, and Franklin Furnace, among others. Notably, her recent artistic exhibitions include a solo show titled Homeward Bound' in BRIC House's Project Room (2023), participation in the group exhibition For Those Without Choice at Weinberg/Newton Gallery (2023), and a creative collaboration with American artist Dread Scott at the Camargo Foundation.
For her 8x5 billboard, she collaborated with a class of recently released individuals from the Fortune Society in New York City to create a massive and colorful work of great impact. She has been working for many years at Fortune, one of the oldest organizations in the U.S. proposing prison reform.
Connect with Jenny on Instagram @jennypolakstudio
El Rebo is founder of Rebolloso Print Studio and Master Printer at Barrio Dudes, an artist-run workshop in San Antonio, Texas. His work utilizes popular symbols and slogans that reference Mexican and Chicanx rites of passage to proclaim pride in his cultural identity. This serigraph titled Ghost Writers challenges the notion that migrants merely absorb resources by asserting the fact that undocumented workers contribute to the economic and cultural wealth of the United States. Active within the festival circuit, Rebo has also developed a series of t-shirts, tote bags and posters that address important issues within the current political climate,