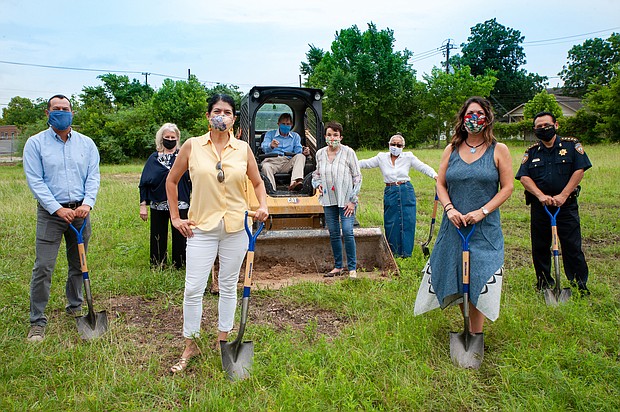 New Hope Housing Avenue J Groundbreaking, East End neighborhood stakeholders. From left: Bolivar "Bo" M. Fraga, BakerRipley Community Engagement Developer and Super Neighborhood 63-Second Ward Member; Melissa Noriega, Former Council Member, At-Large Position 3, City of Houston; Senator Carol Alvarado, Texas State Senate District 6; Michael M. "Mack" Fowler, New Hope Housing Chairman Emeritus; Joy Horak-Brown, New Hope Housing President and CEO; Jessica Hulsey, Super Neighborhood Alliance - Second Ward Representative; Frances Castaneda Dyess, East End Chamber of Commerce President; and Sheriff Ed Gonzalez, Harris County.
Stories this photo appears in:

New Hope Housing Building Community for Working Poor Families
Jason lost his job during the COVID-19 pandemic. As the country began to shut down to curb the spread of the virus, businesses closed, some permanently. Many people lost their jobs. They then lost their ability to afford their rent, among other basic essentials. Jason – like many others – now faces eviction and the possibility of becoming homeless. He does not know where to turn for help.