Harden Carries Rockets To Game 1 Win Over Westbrook, Thunder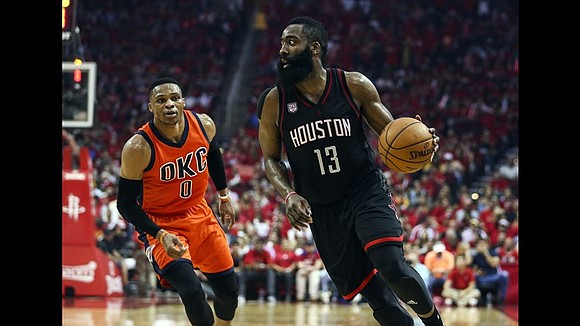 In Game 1 of the marquee matchup between teammates-turned-MVP frontrunners Russell Westbrook and James Harden on Sunday night, the latter walked away victorious.
Harden, who led his Houston Rockets to a commanding 118-87 win, finished with 37 points (on 13-of-28 shooting), nine assists and seven rebounds in 34 minutes. He struggled from beyond the arc (three-of-11), but hit a pair of threes midway through the fourth quarter to help put the game away for good.
He also had his fair share of highlight-reel moments — most notably his crossover of Thunder big man Enes Kanter en route to a wide-open layup. Westbrook, who finished with 22 points, 11 rebounds and seven assists but shot just six-for-23 from the field and had nine turnovers, was bothered by tough defense from the pesky Patrick Beverley throughout. He also didn't have a chance to stage any of those late-game heroics that we saw time and time again in the regular season, as his Thunder found themselves down by as much as 32 in the closing minutes.
For more information go to http://www.khou.com